Shadow Tag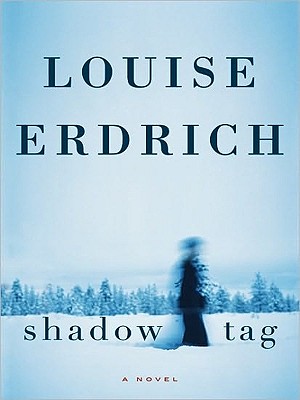 Shadow Tag
HarperLuxe, Paperback, Large Print, 9780061946103, 265pp.
Publication Date: February 2, 2010
* Individual store prices may vary.
Not Currently Available for Direct Purchase
or
Shop Local
Enter your zip code below to purchase from an indie close to you.
Description
Erdrich is a true original and] one of our major writers. Washington Post Book World
Shadow Tag, the brilliant new novel by Louise Erdrich, is a stunning tour-de-force from the National Book Critics Circle Award winning and New York Times bestselling author of Love Medicine and Pulitzer-Prize-finalist The Plague of Doves. In the vein of the novels of such contemporaries as Zoe Heller and Susan Minot, Shadow Tag is an intense and heart-wrenching story of a troubled marriage and a family in disarray and a radical departure from Erdrich's previous acclaimed work.
About the Author
LOUISE ERDRICH lives with her family in Minnesota and is the owner of Birchbark Books, an independent bookstore. Ms. Erdrich is a member of the Turtle Mountain Band of Chippewa, and this series which will, in the end, span one hundred years in the life of an Ojibwe woman was inspired by Ms. Erdrich s own genealogy. Makoons continues the story that started with The Birchbark House, a National Book Award finalist; The Game of Silence, winner of the Scott O Dell Award for Historical Fiction in 2006; the acclaimed The Porcupine Year; and Chickadee, winner of the Scott O Dell Award for Historical Fiction in 2013. Ms. Erdrich is the bestselling author of many critically acclaimed novels for adults as well, including the Pulitzer Prize finalist The Plague of Doves, the National Book Award medalist The Round House and National Book Award finalist The Last Report on the Miracles at Little No Horse. She is also the author of the picture book Grandmother s Pigeon, illustrated by Jim LaMarche. You can visit her online at www.readlouiseerdrich.com and www.birchbarkbooks.com.
Praise For Shadow Tag…
"A portrait of an 'iconic' marriage on its way to dissolution…Erdrich's unbridled urgency yields startlingly original phrasing as well as flashes of blinding lucidity."
-New York Times Book Review

"Gripping…a hushed and haunting tale that chillingly and convincingly reflects the upper-middle-class American experience, not only the Native American one."
-USA Today

" A fierce novel…raw…alive…vividly present…it marks a breakthrough for the author."
-Columbus Dispatch

"Read this if: You're looking for a well-written, well-told tale that is thought- and discussion- provoking."
-Baltimore Sun

"A page-turner…a most compelling novel"
-Dallas Morning News

"SHADOW TAG is hard to put down...It builds to a spectacular ending with a twist I didn't see coming...Erdrich has taken a tragedy and turned it into art."
-Philadelphia Inquirer

"A domestic drama that builds an almost thriller-like momentum…A novel as dark and tragic as it is difficult to put down"
-San Diego Union-Tribune

Clear, urgent, deep as a swift river…accomplishes the literary miracle of making a reader ravenous to finish it, while stinging with regret at how soon it must end."
-San Francisco Chronicle

"SHADOW TAG is compelling…a searing, personal examination of one family that's falling apart."
-Miami Herald

"An exquisite, character-driven tale…its piercing insights into sex, family, and power are breathtaking…A masterfully concentrated and gripping novel of image and conquest, autonomy and love, inheritance and loss."
-Donna Seaman, Booklist

"Muscular and fearless…It is [Erdrich's] superb telling of this story that makes it real, her stellar writing that brings powerful truth to invented worlds."
-BookPage

"Erdrich offers a portrait that's convincing…Shadow Tag is wonderfully, painfully readable and revealing."
-Minneapolis Star Tribune

"A fast-paced novel of exceptional artistic, intellectual, and psychological merit…Nowhere have love's complications been better illustrated than in the raw honesty of Shadow Tag."
-Boston Sunday Globe

"A masterpiece…a captivating work of fiction…exquisite…tightly focused…arresting…This profoundly tragic novel captures that lament in some of Erdrich's most beautiful and urgent writing."
-Ron Charles, Washington Post

"A brilliant cautionary tale…Reading it is like watching a wildfire whose flames are so mesmerizingly beautiful that it's almost easy to ignore the deadly mess left behind."
-Library Journal

"Into this deeply personal novel about marriage, family and individual identity, Erdrich weaves broader questions about cause and effect in history...A small masterpiece of compelling, painfully moving fiction."
-Kirkus Reviews (starred review)