You Are the Best Medicine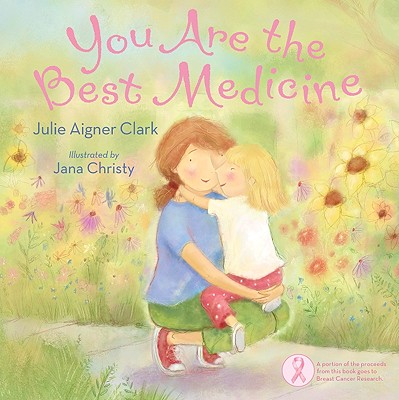 You Are the Best Medicine
Balzer & Bray/Harperteen, Hardcover, 9780061956447, 32pp.
Publication Date: September 7, 2010
* Individual store prices may vary.
Not Currently Available for Direct Purchase
or
Shop Local
Enter your zip code below to purchase from an indie close to you.
Description
When someone you love has cancer, how can you make them smile? A cuddle, a story, a kissand thoughts of you. Because you are the best medicine.
Watching someone you love go through cancer treatment is scaryespecially for a child. In this courageous and sensitive book, cancer survivor Julie Clark creates sweet and poignant memories that remind us how children can nurture people they care about at a time when optimism and love are the most needed.
About the Author
Julie Aigner Clark is a mom, a writer, and a teacher who has survived breast cancer twice. As the founder of the Baby Einstein Company and the Safe Side, Julie has been writing books and creating media for children since 1997 and has sold millions of copies worldwide. "You Are the Best Medicine" was inspired by her daughters, Aspen and Sierra, and by her husband, Bill.
Julie lives in Colorado with her family, which includes cats, chickens, lovebirds, fish, and a rescued mouse.
Julie is proud to direct her portion of the proceeds from this book to UCLA's Jonsson Comprehensive Cancer Center because of its pioneering role in developing life-saving cancer treatments.
Jana Christydid much of the art for this book during hurricane-force winds on a small island off the coast of Nova Scotia flags flapped and walls shook in a house that looks remarkably like the house in this story. Sheloves drawing girls with attitude, boys with pluck, the chickens that wander around her garden, punks, robots, cavemen and zombies, bleak weather, windy days, sea creatures, and more. She loves creating handmade minibooks with her husband, exploring new places with her children, and letting her brain and brushes wander. She lives in North Adams, Massachusetts.