Loose Diamonds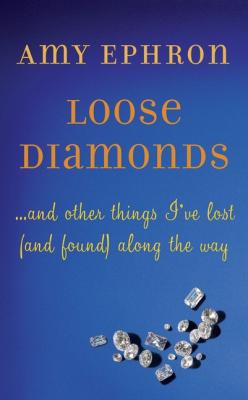 Loose Diamonds
…and other things I've lost (and found) along the way
William Morrow, Hardcover, 9780061958748, 176pp.
Publication Date: September 1, 2011
* Individual store prices may vary.
Buy at Local Store
Enter your zip code below to purchase from an indie close to you.
or
Not Currently Available for Direct Purchase
Description
"I've never bought loose diamonds but the idea of them appeals to me, sparkling stones that I imagine come wrapped in a velvet cloth . . . "
With her wonderful sense of humor, marvelously candid voice, and astonishing perception, Amy Ephron weaves together the most insightful, profound, and just plain funny stories of her life to form a tapestry of a woman's experiences from childhood through young adulthood, marriage, divorce (and remarriage), and everything in between. Writing with great honesty and exacting prose, Ephron gives us an evocative, engaging, and often piercing look at modern life.
Along the way, we meet colorful and unforgettable characters such as the Birdman, who invited Ephron when she was a young girl into his Spanish-style home that he'd magically turned into an exotic aviary. And there's Honey, the Cristal-loving Southern beauty, who struggles in her affairs with men and who orders "champagne by the case." Ephron also recounts the afternoon she spent with the infamous Squeaky Fromme, and describes what happened after one of the mothers at her son's school rear-ended her car. Did it have anything to do with Ephron's soon-to-be ex-husband? And through it all is Ephron's mother, whose perspectives on everything—from shoes to egg cups—pervade this book, and whose alcoholism was a constant challenge, forcing Ephron out on her own at an early age. Finally, Ephron professes her lifelong love affair with Saks Fifth Avenue in New York City, a touchstone and a companion in a world that always moves too fast and is sometimes upside down. It is an ode to a simpler time of elegance and style, and an incisive look at today's times.
Throughout Loose Diamonds, Amy Ephron celebrates these memories and her friendships, as well as her romances and marriages, and the things that make life livable (such as her Filofax, which she would be lost without). She writes unflinchingly about the fragility and tenuousness of life, how fortune can turn on a dime and circumstances aren't always in our control. She explores the enduring effects of parental wisdom, the complications and rewards that marriage can bring, and the intricate ups and downs of friendships—all with a quick wit and a delicate eye.
Praise For Loose Diamonds…
"Must read ... goes back to her Los Angeles childhood and goes through her marriage, divorce, and remarriage."
-Morgan Murrell, Harper's Bazaar

"In Loose Diamonds, Ephron offers a deeply honest and compelling look at the events that made her the woman she is today."
-The Daily Beast

"A little gem... she is an expert at introspection as entertainment...the collection masters brevity and range."
-Claire Howorth, The Daily

"A fun and engaging read... the pages turn themselves...Not only do the essays stand up on their own, the overarching themes unravel
-Julia Gazdag, Hello Giggles

"Readers will enjoy her poignant accessibility... this is a great women's-interest title, appealing to lovers of Ephron's historical fiction and to fans of humorous essays alike."
-Annie Bostrom, Booklist

"All of these fascinating experiences and relationships described in Loose Diamonds add to the richness of this loosely woven set of essays. Ms. Ephron's thoughts on marriage, divorce as well as her 'Tips for Women getting a Divorce' are written with wit and panache."
-Laura Shultz, New York Journal of Books

"A frothy, lighthearted, often witty collection of essays about marriage, motherhood and the power of a good piece of jewelry."
-Shelf Awareness

"The tales are variously charming, funny, poignant, and even hair-raising, as when [Ephron] finds herself spending an afternoon with Manson family alumna Squeaky Fromme."
-Jewish Journal of Los Angeles

"Well-written, empathetic, and a joy."
-BookLoons Reviews

"Actively intelligent and utterly descriptive, Amy Ephron always makes you feel as if you're right there with her feeling what she's feeling and seeing what she's seeing… Loose Diamonds is a sincerely-written book…that you shouldn't miss."
-BookRoom Reviews