My Spiritual Journey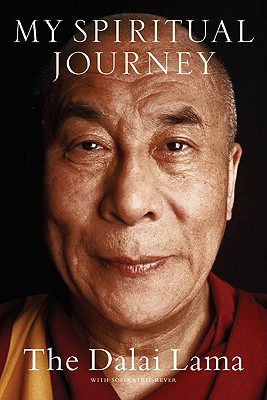 My Spiritual Journey
HarperOne, Hardcover, 9780061960222, 304pp.
Publication Date: October 12, 2010
* Individual store prices may vary.
Buy at Local Store
Enter your zip code below to purchase from an indie close to you.
or
Buy Here
Description
The world knows the public face of the Fourteenth Dalai Lama.
We have read about his near escape from Tibet after the Chinese invasion, his nobel Peace Prize, and his friendships with world leaders, Hollywood actors, and scientists around the world. But what are his inner, personal thoughts on his own spiritual life? For the first time and in his own words, the Dalai Lama charts his spiritual journey from his boyhood days in rural Tibet to his years as a monk in the capital city of Dharamsala, to his life in exile as a world leader and symbol of peace.
My Spiritual Journey provides a vivid and moving portrait of the Dalai Lamas life journey that is personal in tone but universal in scope. He explores three phases or commitments of his spiritual lifeas a human being, as a Buddhist monk, and as the Dalai Lamaeach of which has made him more dedicated to exploring and teaching human values and inner happiness, promoting harmony among all religions, and advocating for the civil rights and well-being of the Tibetan people.
At the age of two, little Tenzin Gyatso was identified as the fourteenth reincarnation of the first Dalai Lama. From then on, his life has been on a trajectory few can imagine. Some see him as a living Buddha and moral authority, others identify him as a god-king, while still others see him in political terms as either a hero or a counterrevolutionary. In My Spiritual Journey, we see the personal struggles, the courage, the laughter, and the compassion that have defined the remarkable life of one of our worlds greatest living legends.
About the Author
Tenzin Gyatso, the Fourteenth Dalai Lama, is the spiritual and temporal leader of the Tibetan people. He was awarded the Nobel Peace Prize in 1989. He lives in exile in Dharamsala, India.

Sofia Stril-Rever is a Sanskrit expert and an interpreter for the Dalai Lama. She received training from a traditional Indian pandit and a Tibetan lama in the monastery of Kirti (Dharamsala). She translated and published a collection titled Kalachakra Buddhist Scriptures and cofounded the website www.buddhaline.net.


Praise For My Spiritual Journey…
"Readers both well versed in and new to the Dalai Lama's teachings will make invaluable discoveries as the Dalai Lama emphasizes our common humanity, our interdependence, and the need for us to 'cultivate a greater sense of universal responsibility.'"
-Booklist

"This gathering of insights on a variety of topics should ...please the Dalai Lama's English-speaking adherents."
-Library Journal

"An important record of the mind and heart of one of the great figures of our times."
-New Age Retailer

"In his moving new memoir, My Spiritual Journey,… the Dalai Lama's immense hope and good humor shine throughout."
-Organic Spa Magazine

"An intriguing portrait of the Tibetan spiritual leader."
-Los Angeles Times

"'Spirituality'" may be the most nebulous word in the English language, but My Spiritual Journey provides a definition that both devotee and atheist might approve: 'the full blossoming of human values that is essential for the good of all.'"
-The Washington Post

"When a spiritual leader banned from a small Asian nation galvanizes a worldwide following, attention must be paid. Reading My Spiritual Journey is an alternately inspiring, fascinating, frustrating, and hopeful way to do just that."
-AARP The Magazine