Mindful Birthing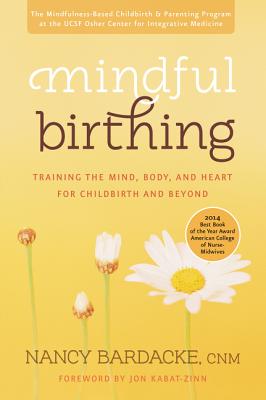 Mindful Birthing
Training the Mind, Body, and Heart for Childbirth and Beyond
HarperOne, Paperback, 9780061963957, 359pp.
Publication Date: July 10, 2012
* Individual store prices may vary.
Buy at Local Store
Enter your zip code below to purchase from an indie close to you.
or
Buy Here
Description
With Mindful Birthing, Nancy Bardacke, nurse-midwife and mindfulness teacher, lays out her innovative program for pregnancy, childbirth, and beyond. Drawing on groundbreaking research in neuroscience, mindfulness meditation, and mind/body medicine, Bardacke offers practices that will help you find calm and ease during this life-changing time, providing lifelong skills for healthy living and wise parenting.
SOME OF THE BENEFITS OF MINDFUL BIRTHING:
Increases confidence and decreases fear of childbirth
Taps into deep inner resources for working with pain
Improves couple communication, connection, and cooperation
Provides stress-reducing skills for greater joy and wellbeing
Praise For Mindful Birthing…
"Bringing mindfulness to the birthing process has everything to recommend it: it can reduce fear and stress and make the experience more rewarding for all involved. All that's required is to practice the techniques that Nancy Bardacke explains so clearly in this book.
-Andrew Weil, MD, New York Times bestselling author

"Combining ancient wisdom and modern evidence-based science, the practices in this book will change your life. A must-buy for expectant parents, for midwives and other professionals involved in birthing, and also for any of us who want a glimpse of what great mindfulness teaching can offer us."
-Mark Williams, bestselling author of The Mindful Way Through Depression

"Mindful Birthing is a unique, positive and welcome contribution to the world of birthing. I highly recommend this book to all pregnant women."
-Patricia A. Robertson MD, Professor and Attending Obstetrician, University of California, San Francisco

"As a mother to be, I learned to mindfully embrace the uncertainties of birth and parenting through Nancy's teachings. As an obstetrician, I felt inspired to integrate these methods into my practice. This is at the top of my recommended reading list for all of my patients."
-Sarah Wilson MD, University of California, San Francisco

"Until Mindful Birthing, good techniques for helping you experience the unpredictable changes of pregnancy and birth with resilience have not been available. Using the mindfulness techniques in this book, the process of pregnancy, birth, and parenting is transformed from a series of stressful changes to a joyful journey." -
-Tekoa L. King CNM, MPH Deputy Editor Journal of Midwifery & Women's Health

"Mindful Birthing develops a unique blend of meditation, yoga and scientific information into a user friendly approach to maternity care and life changes after childbirth. It is a practical way to approach the many potential technologic intrusions that are so much a part of modern day obstetrics." -
-Douglas W. Laube, MD, Past President of the American College of Obstetricians and Gynecologists

"In Mindful Birthing, science, story, and skill-building are woven together seamlessly engaging the reader to pay attention to the breath and stay in the moment, fully experiencing happiness and joy as well as fear and pain. Expectant mothers and their partners can just "be". What a gift!"
-Sharon S. Rising, midwife and CEO of the Centering Healthcare Institute

"This book gives parents and parents to be the tools they need to meet their experience with honesty, compassion, and kindness. A truly valuable resource."
-Sharon Salzberg, author of Real Happiness

"Mindful Birthing is a lovely book. It makes you think and it makes you cry. Give it to any one you know about to give birth. It will change the parents' life--and the life of their child."
-Barry Boyce, editor-in-chief, Mindful.org

"Mindful Birthing recognizes that no factor is more significant for our national health than how our children are born and raised. Nancy Bardacke offers a vision for how everyone involved in birth and parenting can act with utmost care. Let's make this required reading in medical education.
-Congressman Tim Ryan