Diary of a Very Bad Year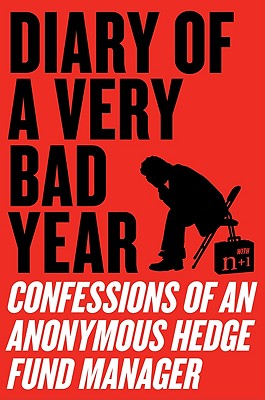 Diary of a Very Bad Year
Confessions of an Anonymous Hedge Fund Manager
Harper Perennial, Paperback, 9780061965302, 260pp.
Publication Date: June 22, 2010
* Individual store prices may vary.
Buy at Local Store
Enter your zip code below to purchase from an indie close to you.
or
Buy Here
Description
The First Book from n+1 an Essential Chronicle of Our Financial Crisis
HFM: Where are you going to buy protection on the U.S. government's credit? I mean, if the U.S. defaults, what bank is going to be able to make good on that contract? Who are you going to buy that contract from, the Martians?
n+1: When does this begin to feel like less of a cyclical thing, like the weather, and more of a permanent, end-of-the-world kind of thing?
HFM: When you see me selling apples out on the street, that's when you should go stock up on guns and ammunition.
Praise For Diary of a Very Bad Year…
"My favorite book written about the financial crisis. . . . Highly recommended."
-Ezra Klein, The Washington Post

"Diary of a Very Bad Year is a rarity: a book on modern finance that's both extraordinarily thoughtful and enormously entertaining."
-James Surowiecki, author of The Wisdom of Crowds

"A highly readable refresher on the financial crisis. . . . Amazingly—and largely because of the anonymity he's granted—the nameless hedgie gives straight answers. . . . While HFM comes off as a bro you don't want to mess with, the book is packed with plenty of humor."
-The Wall Street Journal

"Eminently readable. . . . Always engaging. . . . Although it is not fiction, Diary of a Very Bad Year is, in its own way, an attempt to bridge the gulf between the literary and financial worlds."
-Financial Times

"Diary of a Very Bad Year does something few of the books written about the crisis have accomplished: It delivers an insider perspective on the events in real time, rather than dwelling on conclusions reached after the fact."
-BusinessWeek

"HFM does a good job of teaching the reader how mortgage-backed paper, money-market funds, and credit-default swaps work, while offering up juicier tidbits about the ethics and legalities of his sector."
-Time Out New York

"Diary of a Very Bad Year takes the first steps toward putting a human face on the funds."
-Newsweek

"A great read. . . . HFM offers a brilliant financial professional's view of the economic situation in real time, from September 2007, when problems in financial markets began to surface, until late summer 2009."
-Booklist

"A wonderful book. Diary of a Very Bad Year is a fascinating commentary on the crisis and a great read."
-David Backus, Professor of Economics and Finance, NYU's Stern School of Business

"Thoughtful, funny and unpretentious. . . . An unexpected treat that belongs on the shelf once labeled belles-lettres. . . . It is plenty enjoyable to watch HFM's mind unfurl."
-Dwight Garner, The New York Times

"A short, illuminating set of interviews with one savvy, articulate Wall Streeter. . . . A penetrating, educational and at times harrowing play-by-play."
-Time magazine

"n+1 (in the person of Keith Gessen) lends an outsider's ear to the brilliant disquisitions of a guy caught in the middle of it all. . . . Excellent reading. . . . Compelling."
-The Millions