Proust's Overcoat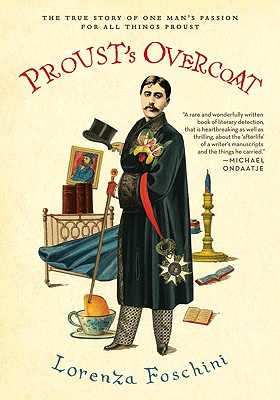 Proust's Overcoat
The True Story of One Man's Passion for All Things Proust
Ecco Press, Hardcover, 9780061965678, 128pp.
Publication Date: August 3, 2010
* Individual store prices may vary.
Buy at Local Store
Enter your zip code below to purchase from an indie close to you.
or
Not Currently Available for Direct Purchase
Description
"A rare and wonderfully written book of literary detection that is heartbreaking as well as thrilling."
--Michael Ondaatje, author of The English Patient In the tradition of Simon Winchester's The Professor and the Madman comes Proust's Overcoat by Lorenza Foschini--the charming, endlessly intriguing story of a collector's obsessive search for the personal effects of legendary author Marcel Proust. This fascinating true story introduces readers to a truly delightful character--Jacques Guerin, owner of a perfume company in France--and enthralls them with his relentless lifelong pursuit of all things Proustian, even the author's most mundane possessions.
Praise For Proust's Overcoat…
"Lorenza Foschini's delightful portrait of Guerin and his Proust obsession (translated from the Italian by Eric Karpeles). The objects themselves take on a life of their own and do a jig in this little volume."
-Newsday

"A fascinating, quick read about Jacques Guérin, a guy whose obsession with Marcel Proust makes Justin Bieber fans look calm (slight exaggeration)."
-Nylon Magazine

"Lorenza Foschini's portrait of Guérin and his Proust obsession is delightful, and the objects themselves take on a life of their own and do a jig in this little volume."
-Los Angeles Times

"This sparkling, elegant piece of reportage addresses not only these particular facts and their historical ambience but also, more indirectly, larger questions of our fascination with celebrity and our passion for relics, however humble, gilded by the charisma of fame."
-Boston Globe

"Charmingly narrated."
-San Francisco Chronicle

"[Foschini], elegantly teasing out the relationship between family dynamics and property... highlights the role of objects and spaces in Proust's work, allowing us to see In Search of Lost Time through a different lens."
-BookForum

"Foschini does a superb job of driving the intrigue and depicting how and why Guérin fell into such an infatuation. The Prousts and Guérin are characters not soon forgotten."
-Sacramento Book Review

"The translation by Karpeles... is seamless. VERDICT: This reviewer belonged to a group that read only Proust; we called ourselves the Proustitutes. Proust's Overcoat is urgently recommended to Proustitutes wherever you are."
-Library Journal

"Readers pondering what manner of person created the masterpiece In Search of Lost Time will gobble up this tale of family tensions, revenge and collecting as they reflect on a literary legacy that was almost lost."
-Shelf Awareness

"A rare and wonderfully written book of literary detection, that is heartbreaking as well as thrilling, about the 'afterlife' of a writer's manuscripts and the things he carried."
-Michael Ondaatje

"I read it in two sittings and just loved it."
-André Aciman, author of EIGHT WHITE NIGHTS

"This book is just my style. In the spirit of La Bohème, a brilliant aria to the coat."
-Patti Smith

"It's exquisite, delicate, fascinating. I put PROUST'S OVERCOAT on the same shelf as Serena Vitale's PUSHKIN'S BUTTON and Umberto Eco's FOUCAULT'S PENDULUM."
-Edmund White, author of HOTEL DE DREAM and MY LIVES