Running on Faith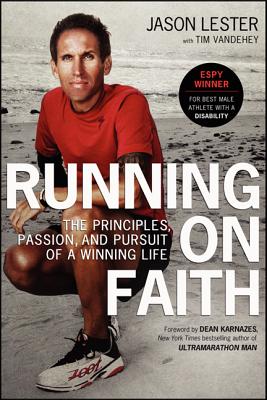 Running on Faith
The Principles, Passion, and Pursuit of a Winning Life
HarperOne, Hardcover, 9780061965722, 206pp.
Publication Date: August 24, 2010
* Individual store prices may vary.
Not Currently Available for Direct Purchase
or
Shop Local
Enter your zip code below to purchase from an indie close to you.
Description
In 2008, Jason Lester became the first person with a disability to finish the Ultraman World Championship alongside able-bodied competitors. With the use of only three limbs, Jason competed in one of the most demanding endurance races in the world, swimming 6.2 miles, biking 261.4 miles, and running 52.4 miles to the finish line. Jason has completed over seventy triathlons, biathlons, marathons, Ironmans, and Ultramans. In 2009, he became the first male triathlete to win an ESPY Award and the fifteenth athlete in the history of Ultraman to complete both the Ultraman World Championship and Ultraman Canada in the same year.
Yet Jason Lester's life as an athlete almost never happened. When a speeding car ran a red light, a bike ride to the local video store nearly became Jason's last, sending him 130 feet into the air and ultimately to the hospital with twenty broken bones. The pain was intense and long rehabilitation grueling, compounded by the sudden death of his father (his best friend and mentor) and the realization that his right arm was paralyzed. Only twelve years old and struggling to heal amid the grief, Jason miraculously found the strength to fight his way back. Without the use of his arm, he refused to give up the sports he'd grown to love, recommitting himself to life and ultimately surpassing goals that few dared to set.
Running on Faith reveals how to develop the mind-set of a true competitor and includes riveting stories of the precarious and often unforeseen conditions encountered on the race path--jellyfish-infested waters, suffocating heat, and blinding sheets of rain. With passion, dedication, and strength of purpose, Jason shares his experience facing extreme challenges head-on, gleaning insight from each trial. He offers the principles he's learned to live by in order to accomplish his goals and shows how they can be applied to the tests we all face. An inspirational guide to overcoming adversity, recognizing God's guiding hand in our lives, and achieving our dreams, Running on Faith is a spirited testament to the power of faith.
About the Author
Jason Lester is one of the world's finest physically challenged extreme athletes. He is the first male triathlete to win ESPN's ESPY award, winning in 2009 for best male athlete with a disability. He has competed in more than seventy races, including the Arizona Ironman, Western Australia Ironman, Hawaii Ironman World Championship, Ultraman Canada, and Ultraman World Championship in Hawaii. He lives and trains in Kailua-Kona, Hawaii.

Jim Vandehey is the co-author of "Blindsided. "

Dean Karnazes has been called an "Ultrarunning legend" by Men's Journal, and "One of the sexiest men in sports" by Sports Illustrated for Women. Winner of the 2004 Badwater Ultramarathon in Death Valley, he is the author of ULTRAMARATHON MAN. A columnist for Men's Health, Dean lives with his wife and two children in San Francisco. His website is www.ultramarathonman.com.
Praise For Running on Faith…
"Whatever burden you carry (and we all have one) this story will point you to strength beyond yourself. Read it twice!"
-John Ortberg, author and pastor, Menlo Park Presbyterian Church

"Running on Faith is a triumph! Jason Lester is proof that as one wise man said, "Triumph is when you try and add a little umph! Jason Lester shows us ALL that you can achieve whatever you put your mind body and soul into!"
-Rev Run, author of Words of Wisdom: Daily Affirmations of Faith from Run's House to Yours

"Jason's story is a must read! It is a true testimony of the human spirit and confirmation that we all have so much more in us than we may believe. The challenges he conquered will create a shift in your life"
-Tyrese Gibson, singer and actor

"I stand humbled and enamored of the triumph that Jason has made of his life. It is his dedication and determination that impresses me. He has made an art of his sport and of his life. His life inspires mine."
-Stephen Holland, official sports artist of the Los Angeles Kings

"Lester has written his book with the belief that 'if someone applies just one of the lessons in it, it will help them find their purpose.' The path he's travelled to reveal his purpose in life hasn't been easy. But he's learned to view adversity as a challenge."
-West Hawaii Today

"Jason Lester is proof that a dysfunctional home, physical trauma and personal loss aren'treasons to quit on life."
-Charisma Magazine

"You'll be encouraged and inspired by his miraculous story as well as learn how to achieve a true competitor's mindset over adversity...Jason's story is truly remarkable, proof of what dedication, heart, and a never-say-quit attitude can create."
-The Christian Critic

"Athlete and author Jason Lester didn't let his paralyzed arm stop himfrom achieving his goal of becoming an Ultraman. His inspiring storywill motivate you to push harder in life and believe that you can doanything."
-Guideposts

"His life is an excellent example of what can happen when someone decides togo for a dream and refuses to give up."
-The Beach Reporter

"...a powerful, motivating read with lessons anyone can benefit from in their own life."
-examiner.com (Dallas edition)

"We all push our bodies and minds, but sometimes you want to quit. You won't want to quitagain after reading this book."
-Serious Running Blog

"Drawing on faith, Lester managed to keep going…and going…and going."
-weareaustin.com