The Scrapbook of Frankie Pratt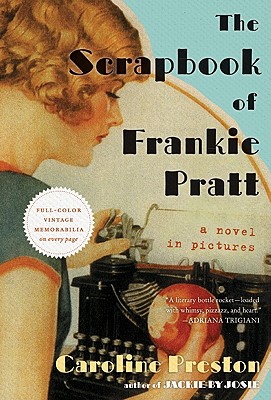 The Scrapbook of Frankie Pratt
A Novel in Pictures
Ecco Press, Hardcover, 9780061966903, 240pp.
Publication Date: October 25, 2011
* Individual store prices may vary.
Buy Now
or
Shop Local
Enter your zip code below to purchase from an indie close to you.
Description
For her graduation from high school in 1920, Frankie Pratt receives a scrapbook and her father's old Corona typewriter. Despite Frankie's dreams of becoming a writer, she must forgo a college scholarship to help her widowed mother. But when a mysterious Captain James sweeps her off her feet, her mother finds a way to protect Frankie from the less-than-noble intentions of her unsuitable beau.
Through a kaleidoscopic array of vintage postcards, letters, magazine ads, ticket stubs, catalog pages, fabric swatches, candy wrappers, fashion spreads, menus, and more, we meet and follow Frankie on her journey in search of success and love. Once at Vassar, Frankie crosses paths with intellectuals and writers, among them Vincent (alumna Edna St. Vincent Millay), who encourages Frankie to move to Greenwich Village and pursue her writing. When heartbreak finds her in New York, she sets off for Paris aboard the S.S. Mauritania, where she keeps company with two exiled Russian princes and a spinster adventuress who is paying her way across the Atlantic with her unused trousseau. In Paris, Frankie takes a garret apartment above Shakespeare & Company, the hub of expat life, only to have a certain ne er-do-well captain from her past reappear. But when a family crisis compels Frankie to return to her small New England hometown, she finds exactly what she had been looking for all along.
Author of the New York Times Notable Book Jackie by Josie, Caroline Preston pulls from her extraordinary collection of vintage ephemera to create the first-ever scrapbook novel, transporting us back to the vibrant, burgeoning bohemian culture of the 1920s and introducing us to an unforgettable heroine, the spirited, ambitious, and lovely Frankie Pratt.
About the Author
CAROLINE PRESTON is a graduate of Dartmouth College and earned her master s degree in American civilization at Brown University. She has worked as a manuscript librarian, both at the Houghton Library at Harvard and the Peabody Essex Museum in Salem, Massachusetts. She is the author of two previous novels, Jackie by Josie (a New York Times Notable Book of the Year) and Lucy Crocker 2.0. She is married to the writer Christopher Tilghman, and they live with their three sons in Charlottesville, Virginia.
Praise For The Scrapbook of Frankie Pratt…
"Impossible to crack open the book without wanting to devour it… a tale of the Roaring '20s illustrated in the dazzling language of trinkets and baubles… the kind of visual candy that coffee tables were designed to showcase."
-NPR.org

"The Scrapbook of Frankie Pratt" is a retro delight. Meticulously assembled and designed by the author from her own huge collection of memorabilia, it turns scrapbooking into a literary art form. Fans of the Roaring '20s, Nick Bantock and modernism will all find something of value in Preston's nostalgic ephemera."
-Washington Post

"In her whimsical mash-up of historical fiction and scrapbooking, Caroline Preston uses vintage images and artifacts, paper ephemera and flapper-era souvenirs.... Apparently no junk shop or eBay seller was spared in Preston's search for ways to bring her fictional heroine to life."
-O, The Oprah Magazine, Lead Review

"In THE SCRAPBOOK OF FRANKIE PRATT, Caroline Preston, a former archivist, pastes vintage postcards, Jazz Age ephemera and typewritten snippets into a sweetly beguiling novel about a New England girl who trades Vassar College for Greenwich Village on the advice of Edna St. Vincent Millay."
-New York Times Magazine

"Every coat button, baseball card, or gramophone record seems to conduct electricity…. As a reader, you are enchanted with Frankie Pratt's life…because her life-so carefully constructed and so elegantly detailed-is not so different from our own."
-DoubleX

"The epistolary novel is ages old, the Twitter novel à la mode, but...The Scrapbook of Frankie Pratt—to my knowledge—is the first scrapbook novel....[A] charming and transporting story, a collage of vintage memorabilia...and other ephemera depicts the adventures of an aspiring flapper-era writer."
-VanityFair.com

"An American (flapper) in Paris: Le Dôme café, James Joyce, Ernest Hemingway and l'amour all show up in scrapbook form in this novel."
-AARP.org

"The Scrapbook of Frankie Pratt by Caroline Preston is for those who love history, strong young women, and unusual story-telling."
-Examiner.com

"Somehow, Preston manages to make this scene feel fresh--partly because [this] really is a scrapbook, each page composed of artifacts: advertisements, yearbook photos, ticket stubs, menus from the automat, and paper dolls modeling their finest… its vintage graphics and sweet, sincere storytelling make it a pure pleasure."
-Boston Globe

"Literal, literary and lovely....Preston's book is a visual journey unlike any other novel out there right now....Can be devoured in the course of a pot of tea on a cold day [but] pick [it] up the next day just to look at the images."
-Atlanta Journal-Constitution

"Selecting from her own collection of period mementos, Preston (Gatsby's Girl, 2006, etc.) creates a literal scrapbook for a young New Hampshire woman coming of age in the 1920s. . . . .Lighter than lightweight but undeniably fun, largely because Preston is having so much fun herself."
-Kirkus Reviews (starred review)

"The vintage scrapbook is an effective vehicle for an entertaining coming-of-age story steeped in the pop culture of the Roaring Twenties. A highly enjoyable read well suited to historical romance fans and scrapbookers alike."
-Library Journal

"THE SCRAPBOOK OF FRANKIE PRATT is like reading your favorite flapper great-aunt's diary. It's a ripping yarn of emancipated girlish adventure."
-Audrey Niffenegger

"What an amazing, creative, funny, thoughtful dip into the life and times of the inimitable Frankie. I know I'll come back to Preston's wonderful creation time and again; for its color, warmth and whimsy. It's a very, very clever novel."
-Jacqueline Winspear

"[H]ave I just read/experienced/devoured the most delightful book ever published? ....There is magic here and genius. I marveled at every page: at first, just the astonishing collection of souvenirs and memorabilia and then the story—so wry and smart and literary and historically fascinating."
-Elinor Lipman

"A literary bottle rocket—loaded with whimsy, pizzazz and heart. The illustrations are compelling and original, and the prose is perfection in the hands of Caroline Preston.... I heartily recommend."
-Adriana Trigiani

"I've been enjoying Caroline Preston's ingenious THE SCRAPBOOK OF FRANKIE PRATT, a novel made up entirely of vintage images. It's nifty and fun—[and] the plot moves along, too!"
-The Paris Review (blog)