The Whale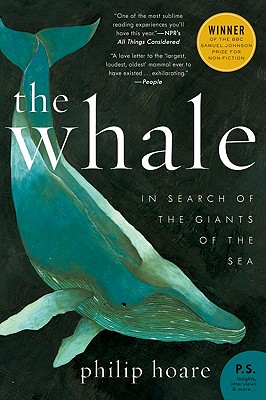 The Whale
In Search of the Giants of the Sea
Ecco Press, Paperback, 9780061976209, 453pp.
Publication Date: February 2011
* Individual store prices may vary.
Buy Now
or
Shop Local
Enter your zip code below to purchase from an indie close to you.
Description
From his childhood fascination with the gigantic Natural History Museum model of a blue whale, to his abiding love of Moby-Dick, to his adult encounters with the living animals in the Atlantic Ocean, the acclaimed writer Philip Hoare has been obsessed with whales. The Whale is his unforgettable and moving attempt to explain why these strange and beautiful animals exert such a powerful hold on our imagination.
About the Author
Philip Hoare is the author of biographies of Stephen Tennant and Noel Coward and the historical studies Wilde's Last Stand, Spike Island and England's Lost Eden. He is also the writer and presenter of the BBC Arena film, The Hunt for Moby-Dick. He lives in Southampton, England.
Praise For The Whale…
"Genius … THE WHALE (is) a rhapsodic mediation on all things cetacean. Hoare is always on the lookout for the revealing detail. He also has a finely tuned sense of perspective and pacing."
-Nathaniel Philbrick, New York Times Book Review

"[Hoare's] work is rigorous, something every serious student of whales--and, more widely conceived, of the natural world--will want to have at hand."
-Washington Post

"Hoare is a splendid writer and a beguiling guide. I found the spell (he) casts powerful and difficult to shake."
-Cleveland Plain Dealer

"You don't have to love Moby Dick to love this book. But if you do, THE WHALE is probably one of the most sublime reading experiences you'll have this year."
-NPR's All Things Considered

"A love letter to the 'largest, loudest, oldest' mammal ever to have existed, Brit biographer Hoare's book romps through science, history and literature to chronicle his obsession with the mighty whale. Salted with astounding facts (the calls of blue whales were one mistaken for earthquakes), this is an exhilarating valentine."
-People

"Philip Hoare's THE WHALE is everything you want from a book. It is unpredictable and amusing and informative and original, cavorting between biology, history, travel writing, and memoir with an engaging sense of the subject's charisma. And the book is even handsome."
-Mark Kurlansky, author of SALT and COD

"This singular, magnificent book inspires both awe and shame—awe of the whales, shame of the human species that has tried to destroy them. In the end, Hoare's virtuosic sympathy for his subject makes you believe in the better angels of our nature."
-Alex Ross, bestselling author of THE REST IS NOISE

"Philip Hoare's writing is quite untrammelled by convention and opens up astonishing views at every turn."
-W.G. Sebald

"A wonderful read!... Hoare magnificently weaves together his own experiences with stories about literary giants whose writings were inspired by whales—Melville, Hawthone, and Thoreau—and he captures the utter beauty, size, and power of the whale."
-Lynne Cox, author of GRAYSON

"A love letter to the 'largest, loudest, oldest' mammal ever to have existed....Salted with astounding facts...this is an exhilarating valentine."
-People