Sandman Slim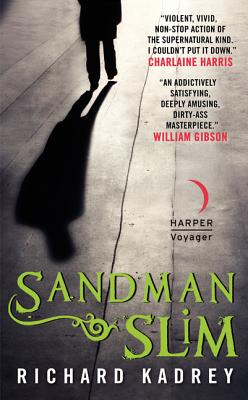 Sandman Slim
Harper Voyager, Mass Market Paperback, 9780061976261, 416pp.
Publication Date: May 1, 2010
* Individual store prices may vary.
Not Currently Available for Direct Purchase
or
Shop Local
Enter your zip code below to purchase from an indie close to you.
Description
Life sucks, then you die. Period.
Unless you're James Stark, a hitman in Hell for eleven years before escaping back up to Hell-on-earth L.A.—looking for revenge, absolution . . . love, maybe.
But Hell's not through with Stark.Heaven's not either.
About the Author
Richard Kadrey has published five novels, including Sandman Slim, Kill the Dead, Aloha from Hell, Butcher Bird, and Metrophage, plus the forthcoming Devil Said Bang, and more than fifty short stories. A freelance writer and photographer, he lives in San Francisco, California.
Praise For Sandman Slim…
"If Simon R. Green wrote an episode of Dog the Bounty Hunter, it would read much like Sandman Slim – violent, vivid, non-stop action of the supernatural kind. I couldn't put it down."
-Charlaine Harris

"If Simon R. Green wrote an episode of Dog the Bounty Hunter, it would read much like Sandman Slim – violent, vivid, non-stop action of the supernatural kind. I couldn't put it down."
-Charlaine Harris

"Nicotine and octane in equal parts might come close to the high-energy buzz from Richard Kadrey's Sandman Slim. Crisp world building, recognizable and fully-realized characters, and a refreshingly unique storytelling style make for an absorbing read.Sandman Slim is my kind of hero."
-Kim Harrison

"The most hard-boiled piece of supernatural fiction I've ever had the pleasure of reading. … all confident and energetic and fresh and angry. I loved this book and all its screwed-up people."
-Cory Doctorow, author of Little Brother

"Paced like greased lightning (watch out for friction burns on your turning finger), blend the movie-ish delights of tough guy noir and such smart-mouthgore-fests as "Reanimator" and "Army of Darkness", seasoned by soupcons of Gaimanian romanticism and Koontzian sentiment."
-Booklist

"Sarcastic, irreverent and ridiculously enjoyable riff on the Urban Fantasy genre. … a lot like a mosh pit -- rough, exuberant, unpredictable -- and a heck of a lot of fun."
-Miami Herald

"The best B movie I've read in at least twenty years. An addictively satisfying, deeply amusing, dirty-ass masterpiece, Sandman Slim swerves hell-bent through our culture's impacted gridlock of genres…it's like watching Sergio Leone and Clive Barker co-direct from a script by Jim Thompson and S. Clay Wilson."
-William Gibson