The Spindlers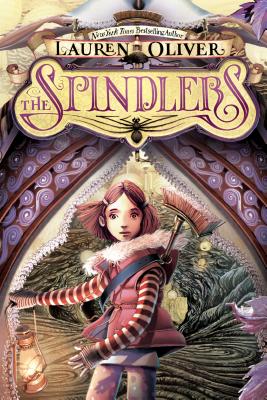 The Spindlers
HarperCollins Publishers, Hardcover, 9780061978081, 246pp.
Publication Date: October 2012
* Individual store prices may vary.
Buy Now
or
Shop Local
Enter your zip code below to purchase from an indie close to you.
Description
One night when Liza went to bed, Patrick was her chubby, stubby, candy-grubbing and pancake-loving younger brother, who irritated and amused her both, and the next morning, when she woke up, he was not. In fact, he was quite, quite different.
When Liza's brother, Patrick, changes overnight, Liza knows exactly what has happened: The spindlers have gotten to him and stolen his soul.
She knows, too, that she is the only one who can save him.
To rescue Patrick, Liza must go Below, armed with little more than her wits and a broom. There, she uncovers a vast world populated with talking rats, music-loving moles, greedy troglods, and overexcitable nids . . . as well as terrible dangers. But she will face her greatest challenge at the spindlers' nests, where she encounters the evil queen and must pass a series of deadly testsor else her soul, too, will remain Below forever.
From New York Times best-selling author Lauren Oliver comes a bewitching story about the reaches of loyalty, the meaning of love, and the enduring power of hope.
About the Author
Lauren Oliveris the author of the YA bestselling novelsBefore I Fall, Panic, andVanishing Girlsand the Delirium trilogy: Delirium, Pandemonium, andRequiem, which have been translated into more than thirty languages and areNew York Timesand international bestselling novels. She is also the author of three novels for middle grade readers: The Spindlers;Liesl & Po, which was an E. B. White Read Aloud Award nominee; andCuriosity House: The Shrunken Head, co-written with H. C. Chester, and a novel for adults, Rooms. A graduate of the University of Chicago and NYU s MFA program, Lauren Oliver is also the cofounder of the boutique literary development company Paper Lantern Lit.

IACOPO BRUNO is a graphic artist and illustrator who lives in Italy. He illustrated James Preller's "Home Sweet Horror", "I Scream, You Scream!", "Good Night, Zombie", and "Nightmareland".
Praise For The Spindlers…
"Richly detailed, at times poetic, ultimately moving; a book to be puzzled over, enjoyed and, ideally, read aloud."
-Kirkus Reviews (starred review)

"This imaginative fantasy emphasizes individual initiative and the power of hope and friendship. With strong, self-reliant female characters and well-defined action, this is a strong addition to fantasy collections."
-School Library Journal (starred review)

"Oliver's magical, mesmerizing quest affirms the saving power of story, friendship, and love."
-Publishers Weekly (starred review)

"Oliver's fluid, poetic prose elevates this tale above the genre, often imparting weight to the simplest sentences....this is sure to win over middle-grade readers."
-Bulletin of the Center for Children's Books (starred review)

"Lauren Oliver will again sweep up younger readers with her dark and illuminating tale...The novel pulses with great adventure and plenty of heart."
-Shelf Awareness (starred review)

Praise for Liesl & Po:"Classic fairy tale elements weave throughout this spirited, old-fashioned adventure. Invigorating and hopeful, this novel testifies to the power of friendship and generosity to conquer greed and depression."
-Publishers Weekly (starred review)

Praise for Liesl & Po:"With her third book, Lauren Oliver (Before I Fall; Delirium) creates another highly original world, this one for middle-grade readers. Oliver introduces orphans Liesl and Will, a touch of magic, some delectable coincidences, and friendship that stretches from the Living Side to the Other Side."
-Shelf Awareness

Praise for Liesl & Po:"Liesl & Po by Lauren Oliver brings much-needed magic to an increasingly neglected age group. It's books like this, with its classic quest plot, intertwined with lyrical metaphysics, that can set a child up for life."
-The Sunday Telegraph

Praise for Before I Fall:"Oliver's debut novel is raw, emotional, and, at times, beautiful....readers will love Samantha best as she hurtles toward an end as brave as it is heartbreaking."
-Publishers Weekly (starred review)

Praise for Before I Fall:"Samantha's attempts to save her life and right the wrongs she has caused are precisely what will draw readers into this complex story and keep them turning pages until Sam succeeds in living her last day the right way."
-Voice of Youth Advocates (VOYA) (Starred Review)

Praise for Delirium:"In [Oliver's] dystopian America, love has been outlawed as the life-threatening source of all discord. Lena's gradual awakening is set against a convincing backdrop of totalitarian horror. The abrupt ending leaves enough unanswered questions to set breathless readers up for volume two of this trilogy."
-Kirkus Reviews (starred review)

Praise for Delirium:"Strong characters, a vivid portrait of the lives of teens in a repressive society, and nagging questions that can be applied to our world today make this book especially compelling and discussable."
-School Library Journal (starred review)