The Unmaking of Israel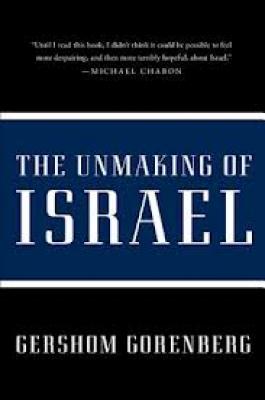 The Unmaking of Israel
Harper Perennial, Paperback, 9780061985096, 336pp.
Publication Date: December 4, 2012
* Individual store prices may vary.
Buy at Local Store
Enter your zip code below to purchase from an indie close to you.
or
Buy Here
Description
One of Newsweek's Ten Best Books of the Year
In this penetrating and provocative look at the state of contemporary Israel, acclaimed Israeli historian and journalist Gershom Gorenberg reveals how the nation's policies are undermining its democracy and existence as a Jewish state, and explains what must be done to bring it back from the brink. Refuting shrill defenses of Israel and equally strident attacks, Gorenberg shows that the Jewish state is, in fact, unique among countries born in the postcolonial era: it began as a parliamentary democracy and has remained one. Yet shortsighted policies, unintended consequences, and its refusal to heed warnings now threaten its many accomplishments.
Based on groundbreaking historical research and a quarter century of experience reporting in the region, The Unmaking of Israel is a brilliant, deeply personal critique by a progressive Israeli, and a plea for realizing the nation's potential.
Praise For The Unmaking of Israel…
"At the core of the book lies a terrifying analogy: Israel as Pakistan, a country whose government has empowered a lawless, fanatical religious movement now subverting the very state that empowered it. Is the analogy apt today? No, but Gorenberg makes a frighteningly convincing case that it might be soon."
-Peter Beinart, Newsweek

"Until I read The Unmaking of Israel, I didn't think it could be possible to feel more despairing, and then more terribly hopeful, about Israel, a place that I began at last, under the spell of Gershom Gorenberg's lucid and dispassionate yet intensely personal writing, to understand."
-Michael Chabon

"In a more forward-looking country, one less devoted to hounding its critics out of existence, legislators would roam the halls of the Knesset carrying well-thumbed copies of Gershom Gorenberg's The Unmaking of Israel."
-The National

"A powerful and persuasive new book.  . . . A finely documented piece of reporting."
-Joshua Hammer, The Washington Monthly

"Eloquent.  . . . An indispensable, closely argued, and conditionally apocalyptic book.  . . . Gorenberg outlines many reasonable steps Israel should take to disentangle religion from the state."
-Jeffrey Goldberg, The New York Times Book Review

"Gorenberg provides a deft but penetrating and highly nuanced account of the recent history and current politics of Israel.  . . . He issues a heartfelt and heart-rending plea for the repair of the Jewish democracy."
-The Jewish Journal

"An important book.  . . . Essential reading for those in the U.S. who view Israel in simple terms as 'the only democracy' in the Middle East. Gorenberg has provided a roadmap for a better future. One hopes that this deeply personal critique will receive the consideration it deserves."
-The Washington Independent Review of Books

"Clear and well argued."
-The Palestine Chronicle

"Gorenberg presents the definitive case for viewing the occupation as more of a threat to Israel than an asset. . . . Required reading for anyone about to embark on a trip to Israel."
-Haaretz

"[Gorenberg's] book is solidly researched and elegantly argued. It combines history and analysis, love and anger. Somehow, it avoids moralism. If you read one book on Irsael, this shoud be it.
-Dissent