Where Memories Lie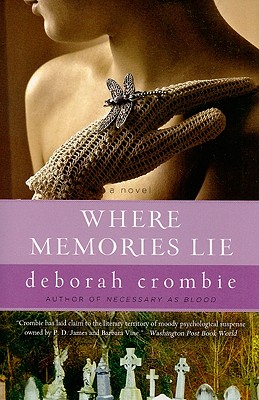 Where Memories Lie
Avon A, Paperback, 9780061986635, 295pp.
Publication Date: June 29, 2010
* Individual store prices may vary.
Buy Now
or
Shop Local
Enter your zip code below to purchase from an indie close to you.
Description
From critically acclaimed, award-winning author Deborah Crombie comes a riveting story of a past evil that endures.
A lifetime ago, Erika Rosenthal and her husband, David, fled to England to escape the Nazis—which is all Scotland Yard Detective Inspector Gemma James truly knows about her secretive friend's past. But Erika needs Gemma's help now. A family heirloom, stolen during their flight, is being sold at a prestigious London auction house. Who has had it all these years? And was Erika's husband's death more sinister than it appeared?
Hidden somewhere in the shadowy, exclusive world of London's monied society are answers to these questions, and to a shocking new murder—one that kicks the enquiries into high gear and brings Detective Superintendent Duncan Kincaid, Gemma's partner and colleague, into the case. Their investigation could exact justice for Erika, and lead them both to shocking revelations and repercussions that echo across the years.
About the Author
Deborah Crombie is a New York Times bestselling author and a native Texan who has lived in both England and Scotland. She now lives in McKinney, Texas, sharing a house that is more than one hundred years old with her husband, three cats, and two German shepherds.