What He's Poised to Do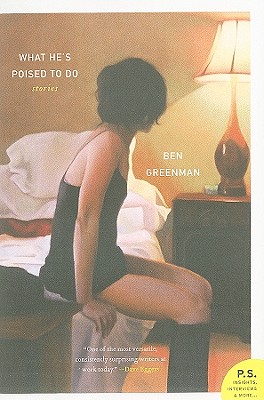 What He's Poised to Do
Harper Perennial, Paperback, 9780061987403, 170pp.
Publication Date: June 15, 2010
* Individual store prices may vary.
Buy at Local Store
Enter your zip code below to purchase from an indie close to you.
or
Buy Here
Description
Ben Greenman is a writer of virtuosic range and uncanny emotional insight. As Darin Strauss has noted, "Like Bruno Schulz, George Saunders, Donald Barthelme, and no one else I can think of, Greenman has the power to be whimsical without resorting to whimsy." The stories in this new collection, What He's Poised to Do, showcase his wide range, yet are united by a shared sense of yearning, a concern with connections missed and lost, and a poignant attention to how we try to preserve and maintain those connections through the written word.
From a portrait of an unfaithful man contemplating his own free will to the saga of a young Cuban man's quixotic devotion to a woman he may never have met; and from a nineteenth-century weapons inventor's letter to his young daughter to an aging man's wistful memory of a summer love affair in a law officeeach of these stories demonstrates Greenman's maturity as a chronicler of romantic angst both contemporary and timeless, and as an explorer of the ways our yearning for connection informs our selves and our souls.
Praise For What He's Poised to Do…
"Greenman offers quiet, serious stories lifted by occasional humor and linked by instances of written correspondence. "
-New York Times Book Review

"What a fine and unique writer Ben Greenman is. I love his sentences, his precision. I feel like he's absorbed and digested so much great literature, distilling it all to create his own fantastic universe of stories and ideas."
-Jonathan Ames, author of Wake Up, Sir!

"This book is like a strobe light—in short, sharp bursts, Ben Greenman renders the world we know into something startling, hypnotizing, and downright trippy."
-Daniel Handler

"Romantic and compulsively readable, What He's Poised to Do will appeal to anyone who's ever been in love, had a broken heart, or been misunderstood."
-Amy Sohn, author of Prospect Park West

"Ben Greenman's What He's Poised to Do is a terrific collection—a set of elegant, inventive dispatches that knock around space and time, and the wrenching gaps between people, to chart a world of previously unnamed moments and emotions."
-Jess Walter, author of The Financial Lives of the Poets

"Ben Greenman's prose is characterized by an effortless musicality. This collection finds him in peak form, simultaneously heartbreaking and hilarious. But it's the beauty of his language that gets me."
-Rhett Miller, lead singer, The Old 97s

"Ben Greenman's masterwork of stories inspired by letters offers fresh insight into the mysteries of intimacy. A seriously brilliant and lyrical piece of modern fiction, with characters so alive and sincere and full of longing, they may climb out of the book and follow you home."
-Simon Van Booy, author of the Frank O'Connor Short Story Award-winning Love Begins in Winter