Blood of the Reich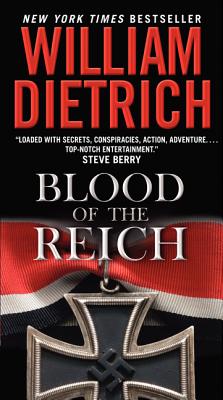 Blood of the Reich
Harper, Mass Market Paperbound, 9780061989193, 576pp.
Publication Date: December 27, 2011
* Individual store prices may vary.
Buy at Local Store
Enter your zip code below to purchase from an indie close to you.
or
Not Currently Available for Direct Purchase
Description
On the eve of World War II, under orders from SS Reichsfuhrer Heinrich Himmler, explorer Kurt Raeder sets out for the Tibetan mountains in search of a legendary energy source that could ensure the ultimate Nazi victory. Only American zoologist Benjamin Hood, together with aviatrix Beth Calloway, can stop Raeder and his team before the tides of history run red with blood.
Decades later, in present-day Seattle, software publicist Rominy Pickett is saved from certain death. Her rescuer, a mysterious journalist, claims to know the truth about Rominy's family warning her of evil forces again on the rise . . . and the coming apocalypse that she must somehow prevent.
Spanning continents and more than seventy years, Blood of the Reich is William Dietrich at his very best a white-knuckle thrill ride filled with adventure, authentic historical detail, and unforgettable characters.
Praise For Blood of the Reich…
"Dietrich's background as a naturalist and historian allow him to successfully create outlandish plots against authentic, real world settings...[Blood of the Reich] sets its sights high and never fails to deliver."
-New York Journal of Books

"[A] diverting thriller from Dietrich. Plenty of chases, deadly confrontations, and startling revelations keep the pages turning."
-Publishers Weekly

"Dietrich's superior stylistics keep the reader on track with the back-and-forth plots in this engrossing action/adventure novel that crosses the decades and circles the globe. If you're partial to the novels of James Rollins and/or Boyd Morrison, then you'll love this one."
-Yahoo! Shine

"William Dietrich has a knack for working interesting historic episodes into a thrilling story…The action is nonstop, and the locations are fascinating…an absorbing read."
-Skagit Daily Herald

"Dietrich has created a wonderful web of intrigue, using history, vibrantly depicted settings, and great character development that leaves the reader unsure of whom to trust until the very end. Fans of Raiders of the Lost Ark will definitely add this to their holds list."
-Library Journal (starred review)

"Told in alternating chapters-past and present-the story is at once a fast-paced historical adventure and a gripping modern-day thriller. Highly recommended to anyone who enjoys a ripping yarn."
-Booklist

"Blood of the Reich showcases [Dietrich's] best skills, marrying riveting historical set pieces to a modern, taut thriller. Evocative and deadly, bloody and harrowing, this book left me breathless and churning through the last pages until its jaw-dropping climax. Not to be missed."
-James Rollins, author of The Devil Colony

"Dietrich has created a wonderful web of intrigue, using history, vibrantly depicted settings, and great character development that leaves the reader unsure of whom to trust until the very end. Fans of Raiders of the Lost Ark will definitely add this to their holds list."
-Romantic Times Book Review

"In BLOOD OF THE REICH, Pulitzer Prize-winning journalist William Dietrich has created a fascinating, fast-paced thriller rich in historic detail and modern technology, with heavy doses of suspense, a dash of romance and a cast of memorable characters worth rooting for."
-Bookreporter.com

"[Dietrich's] compulsively readable Blood of the Reich takes off from a real (and really bizarre) event—a Nazi expedition to Tibet that hoped to discover the Aryan race's origins."
-Seattle Times

"True to form, many of the facts Dietrich peppers in this gripping read relate to real-life events. This attention to detail [is] part of what makes what the writer has to say all the more compelling."
-Cascadia Weekly

"Dietrich takes the reader on a roller coaster ride. The history and plotting are excellent and all the elements of a fine thriller are present. Fans of this genre of novel will love this fast paced book."
-Mystery One

"Blood of the Reich is something new for William Dietrich. A foray into the modern world of the international thriller—loaded with secrets, conspiracies, action, adventure—but with all of the rich scope and history we've come to expect from a Dietrich book. Top-notch entertainment."
-Steve Berry, author of The Jefferson Key
-Bookloons.com