The Stockholm Octavo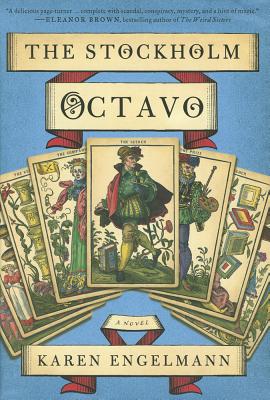 The Stockholm Octavo
Ecco Press, Hardcover, 9780061995347, 416pp.
Publication Date: October 23, 2012
* Individual store prices may vary.
Buy at Local Store
Enter your zip code below to purchase from an indie close to you.
or
Not Currently Available for Direct Purchase
Description
One man's fortune holds the key to a nation's fate in this sensational debut novel set in 18th-century Sweden.
The Stockholm Octavo by Karen Engelmann transports readers to a colorful Scandinavian world of intrigue and magic in a dazzling golden age of high art, music, and opulent fashion.
A masterwork of historical fiction in the vein of Patrick Suskind's classic novel, Perfume, Karen Engelmann's The Stockholm Octavo is mysterious and romantic--as magical and enthralling as The Night Circus by Erin Morgenstern--and features a brilliant and unforgettable cast of extraordinary characters.
Praise For The Stockholm Octavo…
"Delicious…the essence of witty intelligence. Readers will delight [in] every element in this Swedish weave, from the brutal winter weather to the unfurling of a lady's fan. The plot is an urgent one, and the characters mysterious, appealing, and memorable….I felt a real kinship with author Karen Engelmann."
-Sena Jeter Naslund, New York Times bestselling author of Ahab's Wife and Abundance: A Novel of Maire Antoinette

"If you like novels that work on many levels at once, read this stunning tessellation of a book, where fortune is the flip side of intrigue and where history is the flip side of chance."
-Charlotte Rogan, bestselling author of The Lifeboat

"A delicious page-turner that brings 18th century Stockholm to vivid life, complete with scandal, conspiracy, mystery, and a hint of magic. Karen Engelmann's spectacular debut drew me in....A captivating tale, beautifully told."
-Eleanor Brown, New York Times bestselling author of The Weird Sisters

"Neatly mixing revolutionary politics with the erotic tension and cutthroat rivalry of the female conspirators...Engelmann has crafted a magnificent, suspenseful story set against the vibrant society of Sweden's zenith, with a cast of colorful characters balanced at a crux of history."
-Publishers Weekly (starred review)

"Fantastic . . . This rollicking adventure story reads at times like a fairy tale, with Good Guys and Bad Guys and obstacles to be recognized and overcome. It's all quite fun. As either historical novel or adventure story, this clever first novel should appeal to a broad range of readers.
-Library Journal (starred review)

"A juicy page-turner…Engelmann's intellectually playful take on the mathematics of love and power proves irresistible."
-O magazine

"The Stockholm Octavo, Karen Engelmann's impressive debut, is as marvelously and intricately constructed as the mysterious form of divination it's named for. A true pleasure from beginning to satisfying end."
-Shelf Awareness

"Mysterious, suspenseful, and, at times, action-packed."
-Booklist (starred review)

"Elegant and multifaceted, Engelmann's debut explores love and connection in late-18th-century Sweden and delivers an unusual, richly-imagined read...The setup is wonderfully engrossing; this is stylish work by an author of real promise."
-Kirkus

"Karen Engelmann's The Stockholm Octavo is a bonbon box filled with treats designed to appeal to lovers of literary historical thrillers."
-Salon.com

"A dizzying story of political intrigue and forbidden romance, all played out in an array of lost arts, from the reading of cards to the language of ladies' fans to the healing power of plants. Each has its own delicious vocabulary and in Engelmann's debut, each word is savored."
-Boston Globe

"Blends political intrigue, fortune-telling, alchemy, skullduggery, high treason and love. The plot is so compelling it will keep you up at night, and the characters so well-crafted you will gladly follow them through the streets and alleys of 18th-century Stockholm"
-Minneapolis Star Tribune

"Karen Engelmann's novel brims with historical detail and timeless magic."
-Barnes & Noble Review

"Layered, absorbing, and rife with interesting fictional characters and genuine historical detail, Engelmann's work kept me in suspense from this first page to the last."
-Real Simple

"The best novels are the ones that keep you up until 4AM ... Karen Engelmann's The Stockholm Octavo is a true gem that manages to accomplish the above through a compelling storyline, simple yet beautiful prose, and a thought-provoking exploration of the Divine."
-Plaxpena Blog