How to Love an American Man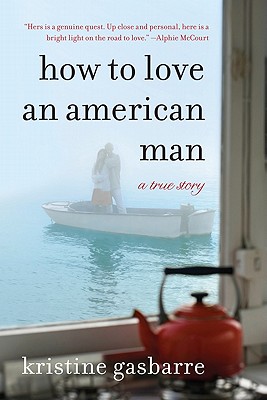 How to Love an American Man
A True Story
Harper Paperbacks, Paperback, 9780061997396, 292pp.
Publication Date: August 16, 2011
* Individual store prices may vary.
Buy at Local Store
Enter your zip code below to purchase from an indie close to you.
or
Buy Here
Description
An endearing and unforgettable memoir of love, self-discovery, and enduring, old-fashioned values
Kristine Gasbarre made a New York career of dating driven, inaccessible men. When she realizes her love life will never result in happiness if she continues on the same path, she makes a big decisionrelocating to Italy to discover her roots and find out what defines her adoring grandpa. But upon receiving the news of his sudden passing, she is lured away.
With nowhere left to go, Krissy returns to her small hometown for the first time in a decade to help care for her grandmothera refined, private matriarch suf?fering from early dementia along with the loss of her husband. In her reluctant agreement to share the nearly lost love stories and transformative lessons from her rich sixty-year marriage, Krissys grandma becomes the one of?fering comfort as she coaches her granddaughter through the fear of loving. Grandmas unapologetic femininity and secret giving spirit opens Krissys eyes about relationships, teaching her the single most important requisite for loving a man: first a woman has to learn the power of her own inner beauty.
About the Author
Kristine Gasbarre is a celebrity interviewer and a culture and lifestyle contributor to women s print and digital publications. A graduate of John Carroll University in Cleveland and Fordham University in New York City, she holds degrees in psychology and media studies, and she lives in Brooklyn, New York.
Praise For How to Love an American Man…
Gasbarre's reflections should resonate with many readers…including those who enjoyed Elizabeth Gilbert's Eat, Pray, Love
-Booklist

"A beautifully written, heartfelt gem. Disguised as a romance, it is actually a story of familial bonds, personal growth and faith."
-Lisa Oz, New York Times bestselling author and radio host

"Gasbarre writes with style, grace and plenty of humor, maintaining a perfect balance. Hers is a genuine quest. Up close and personal, here is a bright light on the road to Love"
-Alphie McCourt

The author's treatment of the central conflict that drives the book-the quintessentially modern female quandary of finding lasting love while staying true to personal ambitions-comes across with an integrity and veracity women readers will undoubtedly appreciate…Chick-lit-alicious."
-Kirkus Reviews

Kristine Gasbarre is a modern-day Jane Austen ... with sparkling wit, this spunky heroine faces modern women's search for love..That's where her grandmother comes in, gently schooling her in the art of courtship and, ultimately, identity. A page-turner that leaves you guessing until the very end."
-Jean Twenge, Ph.D., author of Generation Me and co-author of The Narcissism Epidemic

"How to Love an American Man is fresh, funny, and original. Kristine Gasbarre has written a love story without borders. Dive in and enjoy!"
-Adriana TrigianiAdriana TrigianiAdriana TrigianiAdriana TrigianiAdriana TrigianiAdriana TrigianiAdriana Trigiani