The Impossible State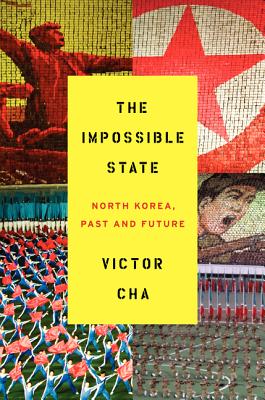 The Impossible State
North Korea, Past and Future
Ecco Press, Hardcover, 9780061998508, 530pp.
Publication Date: April 3, 2012
* Individual store prices may vary.
Buy at Local Store
Enter your zip code below to purchase from an indie close to you.
or
Buy Here
Description
The definitive account of North Korea, its veiled past and uncertain future, from the former Director for Asian Affairs at the National Security Council
Though it is much discussed and often maligned, precious little is known or understood about North Korea, the world's most controversial and isolated country. In The Impossible State, seasoned international-policy expert and lauded scholar Victor Cha pulls back the curtain, providing the best look yet at North Korea's history, the rise of the Kim family dynasty, and the obsessive personality cult that empowers them. He illuminates the repressive regime's complex economy and culture, its appalling record of human-rights abuses, and its belligerent relationship with the United States, and analyzes the regime's major security issuesfrom the seemingly endless war with its southern neighbor to its frightening nuclear ambitionsall in light of the destabilizing effects of Kim Jong-il's recent death.
How this enigmatic nation-stateone that regularly violates its own citizens' inalienable rights and has suffered famine, global economic sanctions, a collapsed economy, and near total isolation from the rest of the worldhas continued to survive has long been a question that preoccupies the West. Cha reveals a land of contradictions, one facing a pivotal and disquieting transition of power from tyrannical father to inexperienced son, and delves into the ideology that leads an oppressed, starving populace to cling so fiercely to its failed leadership.
With rare personal anecdotes from the author's time in Pyongyang and his tenure as an adviser in the White House, this engagingly written, authoritative, and highly accessible history offers much-needed answers to the most pressing questions about North Korea and ultimately warns of a regime that might be closer to its end than many might thinka political collapse for which America and its allies may be woefully unprepared.
About the Author
Victor Cha served in the White House as Director for Asian Affairs at the National Security Council from 2004 to 2007. He currently holds the D. S. Song-KF Chair in Government and Asian Studies at Georgetown University and is a senior adviser at the Center for Strategic and International Studies in Washington, D.C.
Praise For The Impossible State…
"An up-close, insightful portrait. . . . The Impossible State is a clearheaded, bold examination of North Korea and its future."
-Washington Post

"Essential reading for all North Korea watchers. . . . An informative and enjoyable read."
-Library Journal (starred review)

"Cha demonstrates an intimate familiarity with the regime's contradictions. . . . The thesis is clear: the world's most closed-off state needs to open up to survive, but breaking its hermetic seal may well precipitate its demise."
-The New Yorker

"An eye-opening view of the closed, repressive dictatorship of North Korea. . . . A useful, pertinent work for understanding the human story behind the headlines."
-Kirkus Reviews

"Ask those who deal with national security what worries them most and at the top of the list or near it you'll always find North Korea, a place about which we know little to nothing. That's why Victor Cha's book is so valuable."
-Bob Schieffer, CBS News Chief Washington Correspondent

"A powerful portrait of one of the world's most troubled and troublesome countries [and] a fascinating, behind-the-scenes account of recent American foreign policy by a leading official. . . . A must-read combination for anybody interested in Korea, east Asia, or global security more generally."
-Gideon Rose, Editor, Foreign Affairs

"The Impossible State is provocative, frightening, and never more relevant than today as an untested new leader takes charge of the world's most unpredictable nuclear power."
-Andrea Mitchell, NBC News Chief Foreign Affairs Correspondent