Bingsop's Fables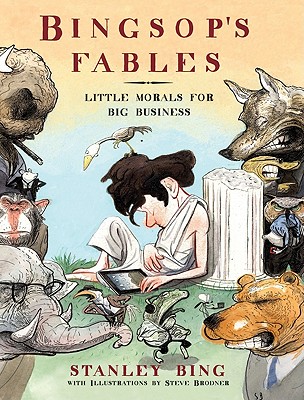 Bingsop's Fables
Little Morals for Big Business
HarperBusiness, Hardcover, 9780061998522, 240pp.
Publication Date: May 1, 2011
* Individual store prices may vary.
Buy at Local Store
Enter your zip code below to purchase from an indie close to you.
or
Not Currently Available for Direct Purchase
Description
For more than twenty years, Stanley Bing has peerlessly explained corporate culture and strategy with wit and insight. Now he brings us this engaging and instructive book of white-collar fables that have charmed generations of businesspeople since Greece was glorious and Rome was grand, brilliant gems of wisdom flowing from the pen of the mysterious, legendary author known throughout the ancient corporate world by a single name: Bingsop.
Bingsop's Fables is animated by a cast of archetypal characters that are as iconic and representative of human nature as were the jackdaw, the dull, the snake, the hare, the lion, the horse, and all the rest of the birds and beasts that populated the stories of that other fabulist, Aesop. The Stupid Investor, the Miserable Misery Mogul, the Ill-Tempered PR Person, and the Potentially Generous CEO—each struts and frets his hour upon the stage and, in the end, presents us with a moral that rings so true it would hurt if we were not also laughing.
Festooned with provocative, witty illustrations by New Yorker artist Steve Brodner, this lean, muscular edition will equally be at home on the shelves of aspiring hedge fund managers hoping to kill their elders as on the credenzas of those beleaguered executives who hear the next generation coming up fast from behind. No business library should be considered complete without it.
About the Author
Stanley Bing is a columnist for Fortune magazine and the bestselling author of Crazy Bosses, What Would Machiavelli Do?, Throwing the Elephant, Sun Tzu Was a Sizzy, 100 Bullshit Jobs . . . And How to Get Them, and The Big Bing, as well as the novels Lloyd: What Happened and You Look Nice Today. By day he is an haute executive in a gigantic multinational corporation whose identity is one of the worst-kept secrets in business.