Ali in Wonderland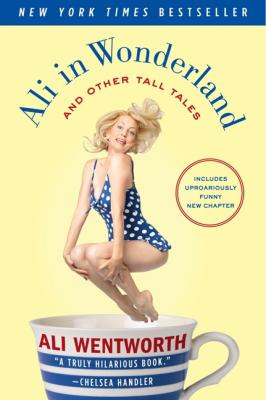 Ali in Wonderland
And Other Tall Tales
Harper Paperbacks, Paperback, 9780061998584, 254pp.
Publication Date: January 22, 2013
* Individual store prices may vary.
Buy at Local Store
Enter your zip code below to purchase from an indie close to you.
or
Buy Here
Description
An acclaimed comedic actress and writer, former Oprah regular, wife of political and media star George Stephanopoulos, and a mother who lets her two girls eat cotton candy before bed, Ali Wentworth rebelled against her blue-blood upbringing, embracing Hollywood, motorcycles, even a few wildly inappropriate marriage proposals. In Ali in Wonderland, she takes us through the looking glass: from a childhood among Washington's elite and a stint in a New England prep school to her days doing L.A. sketch comedy alongside Will Ferrell and Lisa Kudrow. Constant throughout is her mother, Muffie, a flawlessly elegant, no-nonsense force of nature and pure WASP convictions. As charming and off-the-wall as Ali herself, her acclaimed memoir is a delightful look at life that is both intimate and uproarious.
Praise For Ali in Wonderland…
"Hilarious."
-Marie Claire

"Everything that comes out of Ali Wentworth's mouth is funny!"
-Jerry Seinfeld

"Ali Wentworth's book is like Chicken Soup for the Vagina. Gays and straight men, I'm not leaving you out here! Ali is truly one of the quickest, funniest girls I've ever met. Enjoy!"
-Kathy Griffin

"Ali has written a truly hilarious book . . . and she's also a good kisser!"
-Chelsea Handler

"Wentworth is amusing and frank, often frenetic, with sharp intelligence underneath the sassy wackiness; passages about her struggle with depression, falling in love with her husband, and her daughter's baptism have funny moments, but they're thoughtful and touching, too…. Highly entertaining memoir."
-Publishers Weekly

"Ali Wentworth is funny and warm and crazy all at once. Like Barbara Eden. But on something. Like crystal meth."
-Alec Baldwin

"I would tone down the pee and fart references."
-Muffie Cabot (Ali's mother)

"[A] lively, laugh-out-loud memoir....Fans of Amy Sedaris and Merrill Markoe will enjoy Wentworth's warped Weltanschauung and wicket wit."
-Book

"Ali Wentworth tumbles comically through Ali in Wonderland."
-Vanity Fair

"[H]ilarious..."
-Food & Wine

"Unanimous applause greeted this actress-comedian's tour of her fabulous life…all recounted in a manner that had one reader wondering if Wentworth is 'a long-lost sister of the Sedaris clan.'"
-Elle, Readers' Prize February 2012

"[A] satirical dissection of class and privilege….A smart, often-funny memoir."
-Kirkus Reviews

"A breezily amusing memoir..."
-New York Post

"One of the most hilarious reads I've enjoyed in a long time."
-Gwyneth Paltrow, goop

"With candor and humor, [Wentworth] writes about her life, her marriage and growing up in the elite world of her illustrious mother…"
-Julie Hinds, Detroit Free Press