The Department of Mad Scientists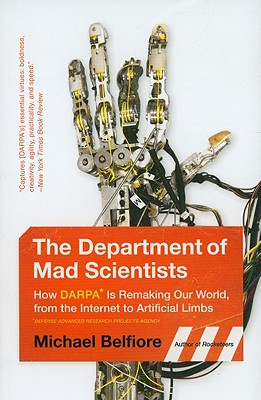 The Department of Mad Scientists
How DARPA Is Remaking Our World, from the Internet to Artificial Limbs
Harper Paperbacks, Paperback, 9780062000651, 295pp.
Publication Date: November 2, 2010
* Individual store prices may vary.
Buy at Local Store
Enter your zip code below to purchase from an indie close to you.
or
Buy Here
Description
America's greatest idea factory isn't Bell Labs, Silicon Valley, or MIT's Media Lab. It's the secretive, Pentagon-led agency known as DARPA. Founded by Eisenhower in response to Sputnik and the Soviet space program, DARPA (Defense Advanced Research Projects Agency) mixes military officers with sneaker-wearing scientists, seeking paradigm-shifting ideas in varied fields from energy, robotics, and rockets to doctorless operating rooms, driverless cars, and planes that can fly halfway around the world in just a few hours.
Michael Belfiore was given unpre-cedented access to write this first-ever popular account of DARPA. The Department of Mad Scientists contains material that has barely been reported in the general media in fact, only 2 percent of Americans know much of anything about the agency. But as this fascinating read demonstrates, DARPA isn't so much frightening as it is inspiring it is our future.
Praise For The Department of Mad Scientists…
If you want to know who really invented the Internet, or how brain waves can control robotic limbs, or how smart cars will become brilliant, this is your book. A must-read for those interested in invention in the modern age
-Joe Pappalardo, Popular Mechanics

"A fascinating introduction to a veritable pantheon of geek gods who quietly shaped the face of modern technology."
-Daniel H. Wilson, roboticist and author of How to Survive a Robot Uprising

"An entertaining and information rich account of a small, efficient government agency that often turned 20th century sci-fi into 21st century technical reality. Belfiore will inspire young readers of a scientific bent to flood DARPA with their resumes."
-Robert Wallace, author of SPYCRAFT: The Secret History of the CIA's Spytechs from Communism to al-Qaeda

"An inspiring book about a crucial government agency (DARPA) with a driving spirit to do the impossible and to do it fast. We all need to read this book."
-John Seely Brown, Former Chief Scientist of Xerox and Director of its Palo Alto ResearchCenter (PARC) John Seely Brown, Former Chief Scientist of Xerox and Director of its Palo Alto ResearchCenter (PARC)

[DARPA's] history has never been told at the level of detail and with such mastery as in this book by Michael Belfiore
-Leonard Kleinrock, Distinguished Professor of Computer Science, UCLA, and Internet pioneer

"An expansive look at one of the most important agencies not only in the Department of Defense, but in American history."
-Nathan Hughes, Military Analyst, STRATFOR

PRAISE FOR ROCKETEERS:"Belfiore excels at painting the world of NewSpace."
-New Scientist

"A riveting, you-are-there account of how this ragtag collection of innovative thinkers, brave pilots, and bold visionaries is--right now--launching one of the most exciting new industries in history. Belfiore's eloquent writing and exhaustive reporting really bring this mysterious, secretive world to life."
-Popular Science

"That this story is still unfolding makes it especially exciting to read. These men are still in their workshops, tinkering their way into orbit."
-Forbes

"The commerical space race is heating up so fast you need a cheat sheet to keep track of all the billionaires and gamblers vying to be the first private entrepreneur to blast paying customers into orbit. [Belfiore] does a stellar job introducing an intriguing cast of characters."
-Wired

"The privitization of space travel is an essential step toward realizing our cosmic destiny. In his engaging, highly readable ROCKETEERS, Michael Belfiore tells the fascinating story of the entrepreneurs who have already made it happen."
-Buzz Aldrin