My Jane Austen Summer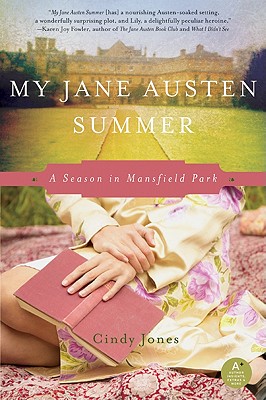 My Jane Austen Summer
A Season in Mansfield Park
William Morrow & Company, Paperback, 9780062003973, 352pp.
Publication Date: March 29, 2011
* Individual store prices may vary.
Buy at Local Store
Enter your zip code below to purchase from an indie close to you.
or
Buy Here
Description
"When one has read the six great Austen novels...and then reread and then reread the six again, one's only recourse is the company of others equally bereft. Cindy Jones's My Jane Austen Summer fills the gap with a nourishing Austen-soaked setting, a wonderfully surprising plot, and Lily, a delightfully peculiar heroine."
--Karen Joy Fowler, author of The Jane Austen Book Club
Author Cindy Jones has a gift for the millions of readers everywhere who have been enchanted by Pride and Prejudice, Sense and Sensibility, and the other wondrous works of the inimitable Austen--not to mention fans of more contemporary delights such as The Jane Austen Book Club. Jones's My Jane Austen Summer is a delightful, funny, poignant novel in which a contemporary woman--an obsessed Austenphile--learns much about life, love, and herself during one magical summer in England spent re-enacting Jane Austen's Mansfield Park.

Praise For My Jane Austen Summer…
"Austen lovers everywhere will delight in Lily's summer adventure and wish Cindy Jones had cast them in a role, too, so they could play a part in this whimsical literary treat."
-Marilyn Brant

"An invitation to get lost in Austen all over again. Janeites will have great fun watching how Cindy Jones cleverly interweaves a very modern romance with the characters, themes, and scenes of Austen's masterpiece"
-Lynn Shepherd, author of Murder at Mansfield Park

"A delightful story that takes us for a romp through the English countryside and into the wonderful world of Jane Austen. You can't help but root for Lily Berry, a refreshingly real heroine as she searches for herself in a novel and finds something quite unexpected."
-Shilpi Somaya Gowda, Author of Secret Daughter

"An indulgent escape for anybody who has ever wished they could live in an Austen novel...poignant, funny, and as sharply observant of human foibles as the great Jane herself."
-Stephanie Barron,,Author of the Jane Austen Mystery Series

"Austen lovers and romantics won't have had this much fun since Bridget Jones's Diary."
-dolcedolce.com

"Jones' Austenish charm dances through each chapter, causing you fall in love with Lily right from the first few pages while empathizing with the ever complicated issues of her life."
-Marie Claire

"This is an amazing debut for Cindy Jones...My Jane Austen Summer is worth every word on the page; I suggest you pick up a copy because you will love it."
-Bookreporter.com

"Whether you are a Jane Austen super fan or a hopeless romantic, Cindy Jones' debut novel will sweep you off your feet."
-She Knows

"My Jane Austen Summer" is packed with rich plot, detailed characters and elaborate settings…a literary feast for Austen fans."
-Deseret News