Red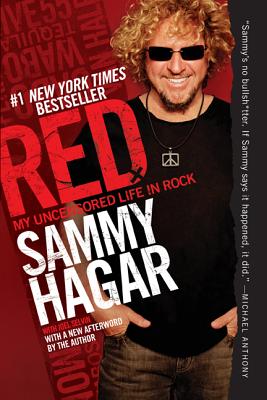 Red
My Uncensored Life in Rock
It Books, Paperback, 9780062009296, 252pp.
Publication Date: March 2012
* Individual store prices may vary.
Buy Now
or
Shop Local
Enter your zip code below to purchase from an indie close to you.
Description
For almost forty years, Sammy Hagar has beena fixture in rock music. From breaking intothe industry with the band Montrose to hismultiplatinum solo career to his ride as thefront man of Van Halen, Sammy's powerful andunforgettable voice has set the tone for some ofthe greatest rock anthems ever written--songslike "I Can't Drive 55," "Right Now," and "WhyCan't This Be Love."
In Red, Sammy tells the outrageous story ofhis tear through rock 'n' roll. From the decadenceof being one of the world's biggest rock stars tothe unfiltered story of being forced out of VanHalen, Sammy's account spares no one, leastof all himself. His is a tale of a true rock 'n'roller--someone who's spent decades bringingthe party with him wherever he goes but alwaysheadin' back to Cabo for mas tequila.
About the Author
Sammy Hagar is the multiplatinum Red Rocker, the outgoing, bombastic front man of hard rock champions Van Halen, currently embarked on his fourth platinum career with his supergroup, Chickenfoot. In addition to his legendary status among rock stars, he is the masterful entrepreneur behind Cabo Wabo tequila. When he's not on the road, he splits his time among California, Hawaii, and Mexico.

JOEL SELVIN, co-author of the #1 bestseller "Red: My Uncensored Life in Rock" with Sammy Hagar, has covered pop music for the "San Francisco Chronicle" since 1970 and written 10 other books about pop music including the bestselling account of San Francisco in the '60s, "Summer of Love", an award-winning biography of Ricky Nelson and a landmark oral history on Sly and the Family Stone.

MICHAEL ANTHONY is from Trinidad. He is the author of many novels, and books about the history of the Caribbean.
Praise For Red…
"Sammy's no bullsh*tter. If Sammy says it happened, it did. There's nobody else anywhere like him."
-Michael Anthony

"Sammy has maintained his all-star success no matter where his Red Rocker career has taken him. He still can't drive fifty-five, but hey, he's the one driving the Mustang. So site back and ride."
-Toby Keith

"Nobody had to explain the American dream to Sammy. He knew in his gut that there was a better life available to him if he refused to accept the status quo. It's all here in Sammy's new book."
-Ted Nugent

"I'll admit it: I've been a Sammy Hagar wannabe since I heard his voice on a Montrose album...I'm proud to call him a rock star hero, a friend, and a brother in the sun. Rock on, Red Rocker!"
-Kenny Chesney

"Sam's the man. Tequila, fast cars, rock 'n' roll—my kind of guy."
-Jimmie Johnson, five-time NASCAR champion

"There are not a lot of people I would drop whatever I'm doing to go and see, but Sammy Hagar is one of thouse people...The man rocks his ass off, and vicariously through him so do I. My man—Sammy Hagar."
-Whoopi Goldberg

"Over the many years I've known Sammy, his Red Rocker passion in music has always inspired me. But it's also his love of cooking great food and sharing a good bottle of wine that has been at the core of our friendship for so long.
-Emeril Lagasse

"There are tell-all books. And then there are tell-all books written by Sammy Hagar. The 63-year-old ex-Van Halen frontman holds back nothing -- and I mean absolutely nothing -- in his autobiography...the Red Rocker's life look-back doesn't skimp on the details."
-Associated Press