Snuff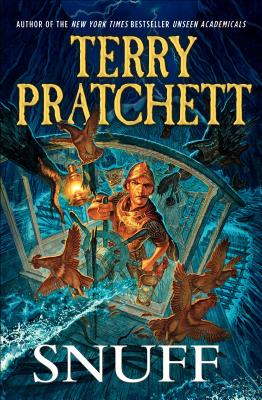 Snuff
HarperTorch, Hardcover, 9780062011848, 398pp.
Publication Date: October 11, 2011
* Individual store prices may vary.
Buy at Local Store
Enter your zip code below to purchase from an indie close to you.
or
Buy Here
Description
Pratchett . . . has a satirist's instinct for the absurd and a cartoonist's eye for the telling detail." Daily Telegraph (London)
The purely funniest English writer since Wodehouse. Washington Post Book World
Sam Vimes, watch commander of Ankh-Morpork, is at long last taking a much-needed (and well deserved) vacation. But, of course, this is Discworld(r), where nothing goes as planned and before Vimes can even change his cardboard-soled boots for vacationer's slippers, the gruff watch commander soon finds himself enmeshed in a fresh fiasco fraught with magic, cunning, daring, and (for the reader more than for poor Vimes) endless hilarity. Did he really expect time off? As Vimes himself says in Feet of Clay, there's some magical creature called overtime, only no one's even seen its footprints. Following the New York Times bestselling Unseen Academichals, Terry Pratchett delivers an enthralling new tale from a place of insuperable adventure: Discworld.
Discworld(r) is a registered trademark.
About the Author
Terry Pratchett is one of the world's most popular authors. His acclaimed novels are bestsellers in the United States and the United Kingdom, and have sold more than 85 million copies worldwide. In January 2009, Queen Elizabeth II appointed Pratchett a Knight Bachelor in recognition of his services to literature. Sir Terry lives in England.
Praise For Snuff…
"In short, this is as busy and as daft as any other Discworld yarn, which means it is the quintessence of daft. Nobody writes fantasy funnier than Pratchett."
-Booklist

"This account of Unseen University's entry into the world of soccer (or, as they occasionally call it, "foot-the-ball") pushes past the usual conventions of satire to offer equal parts absurdist philosophy and heartwarming romance....A witty addition to the long-running fantasy series"
-Kirkus Reviews

"A triumphant effort."
-The Independent on Sunday

"Like Pratchett, [narrator Stephen Briggs] loves the comic rhythm, sound, and very taste of words-just for their own sake. So order up a tuna-spaghetti-jam sandwich (with sprinkles) and be prepared for a wonderful time."
-AudioFile Magazine

"Thirty-seven books in and ... Discworld is still going strong...and doing so with undimmed, triumphant exuberance. "
-The Guardian

"…[SNUFF is a] lively outing, complete with sly shout-outs to Jane Austen and gritty police procedurals."
-Publishers Weekly (starred review)

"The humor is sharp and the characters are charming, and the plight of the goblins creates moments of genuine pathos that are the highlight of the book."
-Tor.com

"Brilliantly complex."
-The Straits Times

"In the history of comic fantasy, Mr. Pratchett has no equals for invention or for range. "
-Wall Street Journal

"Series followers will delight in this latest entry. . . . Pratchett's fun, irreverent-seeming story line masks a larger discussion of social inequalities and the courage it takes to stand up for the voiceless."
-Library Journal

"Funny, of course, but with plenty of hard edges; and, along with the excellent lessons in practical police work, genuine sympathy for the ordinary copper's lot. . . . A treat no fan of Discworld—and there are boatloads of them—will want to miss."
-Kirkus Reviews