Little Billy's Letters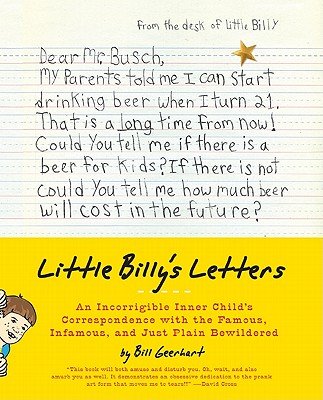 Little Billy's Letters
An Incorrigible Inner Child's Correspondence with the Famous, Infamous, and Just Plain Bewildered
HarperTorch, Paperback, 9780062015105, 240pp.
Publication Date: May 3, 2011
* Individual store prices may vary.
Buy at Local Store
Enter your zip code below to purchase from an indie close to you.
or
Not Currently Available for Direct Purchase
Description
"Truly funny....Little Billy's Letters is a delightful literary Ali G....I loved it "
--Josh Weinstein, former showrunner, "The Simpsons"
"Demonstrates an obsessive dedication to the prank art form that moves me to tears "
--David Cross, comedian and author of I Drink for a Reason

"A masterpiece of mischief "
--Alan Abel, named "Best Prankster of All Time" by Esquire magazine
Little Billy's Letters is a zany collection of correspondence and memorabilia from the famous and infamous, responses to the cheeky and hilarious queries of a curious "little boy" named Billy (in reality, a fully grown Bill Geerhart). Fans of the bestselling Letters from a Nut and The Lazlo Letters, as well as Ali G and Borat aficionados, will howl at "Little Billy's" wickedly, insanely hysterical childish scrawls and less-than-innocent questions to world leaders, Supreme Court justices, celebrities, CEOs, and serial killers...and the truly astonishing answers they elicited

Praise For Little Billy's Letters…
"I generally resent humorous authors more clever than I am, but "Little Billy's Letters" take the cake and he generously shares them. A masterpiece of mischief!"
-Alan Abel, elder statesman of hoaxers and the man Esquire magazine called 'the Best Prankster of All Time"

"This book will both amuse and disturb you. Oh, wait, and also amurb you as well. It demonstrates an obsessive dedication to the prank art form that moves me to tears!!"
-David Cross, Comedian and author of I Drink for a Reason

"Truly funny, fascinating book. Little Billy's Letters is a delightful, literary Ali G. I couldn't put it down. Seriously, there's something with the glue in the binding. Other than that, I loved it!"
-Josh Weinstein, Former Showrunner, "The Simpsons"

"Little Billy's Letters by Bill Geerhart is, in a word, amazing."
-Larry Gelbart, legendary comedy writer

"Little Billy's Letters brought sublime smiles and some howls. Bill Geerhart's book reminds me of Don Novello's Lazlo Toth pranks (Novello is the comic genius who created SNL's Father Guido Sarducci) and Jeffrey Vallance's 1981 prank book on exchanging neck ties with world leaders to promote peace.
-David Cay Johnston, New York Times bestselling author and Pulitzer Prize winning journalist

"I'm mildly insulted that Little Billy didn't write to me, but otherwise I love this clever book and so will you."
-Clifford Irving, author of The Hoax