A Bitter Truth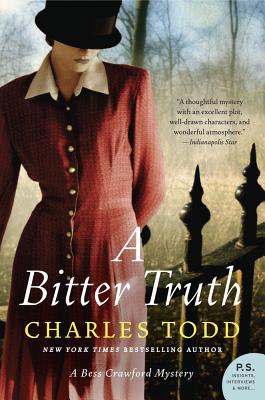 A Bitter Truth
William Morrow & Company, Paperback, 9780062015716, 340pp.
Publication Date: May 1, 2012
* Individual store prices may vary.
Buy at Local Store
Enter your zip code below to purchase from an indie close to you.
or
Buy Here
Description
"Highly recommended--well-rounded, believable characters, a multi-layered plot solidly based on human nature, all authentically set in the England of 1917...an outstanding and riveting read."
--New York Times bestselling author Stephanie Laurens
"Bess Crawford is a strong and likable character."
--Washington Times
Already deservedly lauded for the superb historical crime novels featuring shell-shocked Scotland Yard inspector Ian Rutledge (A Lonely Death, A Pale Horse et al), acclaimed author Charles Todd upped the ante by introducing readers to a wonderful new series protagonist, World War One battlefield nurse Bess Crawford. Featured for a third time in A Bitter Truth, Bess reaches out to help an abused and frightened young woman, only to discover that no good deed ever goes unpunished when the good Samaritan nurse finds herself falsely accused of murder. A terrific follow up to Todd's A Duty to the Dead and An Impartial Witness, A Bitter Truth is another thrilling and evocative mystery from "one of the most respected writers in the genre" (Denver Post) and a treat for fans of Elizabeth George, Anne Perry, Martha Grimes, and Jacqueline Winspear.

Praise For A Bitter Truth…
"Makes fine work of the brooding atmosphere."
-New York Times Book Review on A Bitter Truth

"Outstanding."
-Publishers Weekly (starred review) on A Bitter Truth

"Bess is a very strong series lead, the historical setting is as well developed here as it is in the Rutledge books, and the mysteries are just as elegantly constructed. Readers who have yet to sample the Crawford series should be strongly encouraged to do so."
-Booklist on A Bitter Truth

"Few writers surpass Todd in depicting the insanity of war."
-Kirkus Reviews on A Bitter Truth

"Todd brings World War I England and France to life with an intriguing plot and an intrepid sleuth."
-Library Journal on A Bitter Truth

"A thoughtful mystery with an excellent plot, well-drawn characters and wonderful atmosphere."
-Associated Press on A Bitter Truth

"A well-envisaged plot, a deep sense of time and place and characters drawn with care and compassion."
-Richmond Times-Dispatch on A Bitter Truth

"Charles Todd has developed believable characters that carry along this story with lightning speed from the first page to the last."
-New York Journal of Books on A Bitter Truth

"The Todds excel at complex characterizations....For lovers of upper-drawer British whodunnits and Anglophiles in general, A Bitter Truth should prove a sweet treat indeed."
-Wilmington Star-News on A Bitter Truth

"A lovely picture of a slower world."
-Charlotte Observer on A Bitter Truth

"A thoughtful mystery with an excellent plot, well-drawn characters and wonderful atmosphere."
-Indianapolis Star on A Bitter Truth

"Combines believable characters, gut-wrenching suspense and a sobering commentary on the ravages of war."
-Deseret News on A Bitter Truth

"Highly recommended—well-rounded, believable characters, a multi-layered plot solidly based on human nature, all authentically set in the England of 1917, make A Bitter Truth an outstanding and riveting read."
-Stephanie Laurens, New York Times bestselling author

"Readers will enjoy Todd's plucky, determined sleuth and a thrilling mystery that proves murders on the home front don't stop just because there's a war."
-Library Journal on An Impartial Witness

"Bess Crawford is a strong and likable character."
-Washington Times on An Impartial Witness

"A superb whodunit—just when you think you have it figured out, Todd throws a curve—and a moving evocation of a world at war."
-Richmond Times-Dispatch on An Impartial Witness

"A smartly plotted, well-told mystery."
-Booklist on An Impartial Witness

"A book rich in atmosphere and dense with plot."
-St. Louis Post-Dispatch on An Impartial Witness

"Todd's excellent second mystery featuring British nurse Bess Crawford smoothly blends realistic characters with an intricate plot."
-Publishers Weekly (starred review) on An Impartial Witness

"Find some cures for the post-Downton Abbey blues ... Charles Todd has been producing a series of highly praised detective novels set in the years immediately after World War I."
-Tulsa World Scene