Show Dog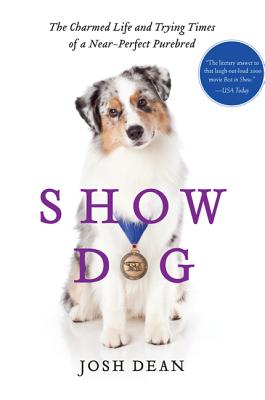 Show Dog
The Charmed Life and Trying Times of a Near-Perfect Purebred
It Books, Hardcover, 9780062020482, 416pp.
Publication Date: February 1, 2012
* Individual store prices may vary.
Not Currently Available for Direct Purchase
or
Shop Local
Enter your zip code below to purchase from an indie close to you.
Description
Every weekend, for nearly fifty weeks each year, tens of thousands of Americans pack up their SUVs and minivans with crates and dryers and treats and shampoos and hairsprays and plush toys and fan out for some of the two-thousand-plus dog shows held annually across the United States. More than two million pedigreed dogs, and exponentially more humans who handle and care for them, will take part in these events—for the most part happily—and the world that has grown up to support them is massive and vibrant, and almost impossible to imagine unless you've seen it in person.
By spending a year alongside rising star Jack, a champion Australian shepherd, and his canine and human friends, magazine journalist Josh Dean yanks back the curtain on the dog show world, providing not just a hilarious and often touching portrait of a colorful subculture only slightly exaggerated in the film Best in Show, but also a revealing look at our love affair with the world's most doted-upon and tinkered-with animal species, examining the colossal array of dog types and humans who love them.
The book follows Jack as he matures over the course of a year, from still-improving adolescent to seasoned adult show dog. We get to know him and the people around him—his owner, his handler, his breeder—to experience what it's like to own a show dog and to train one. And we come to appreciate him for what he is, a lovable and intelligent house pet—albeit one with a highly unusual occupation.
Along the way, Dean takes a close look at the eccentric and fascinating world of breeders and dog show fanciers—exploring the history and science of purebred dog breeding and the evolution of canine perfection via dog show culture, with that pursuit's many related peculiarities: judging, training, naming, promoting, hairstyling, kennel-owning, RV-driving, hotel-finding, treat-selecting, and more.
About the Author
Josh Dean is a former deputy editor of Men's Journal and was one of the founding editors of PLAY, the New York Times sports magazine. His work has appeared in Rolling Stone, Outside, GQ, Popular Science, and many others. He lives in Brooklyn with his wife and son.
Praise For Show Dog…
"A wonderful, charming look at the sport of dogs and dog shows and an absolute must read for anyone looking to get involved."
-Pat Hastings, AKC Judge and author of Tricks of the Trade

"A hilarious chronicle of blow-dried poodles, diva trainers and egregious canine puns. Above all, though, this is an irresistible story about the wondrous bond between humans and animals."
-Mark Adams, author of Turn Right at Machu Picchu

"Filled with heart and humor, bringing to life extravagant characters, pampered pooches, and over-the-top humans without falling prey to tired stereotypes. That's because it's not really about animal beauty pageants; it's about the unyielding bond between people and dogs and what they'll do to make each other happy."
-Jim Gorant, author of The Lost Dogs

"As I was sucked into the story of Jack the show dog, I began to understand the subtleties of the sport, the amazing talents of these animals, and the affecting human-and canine- drama behind the show."
-John Hodgman, author of That is All

"Fascinating and funny...as I was sucked into the story of Jack the show dog, I began to understand the subtleties of the sport, the amazing talents of these animals, and the affecting human-and canine-drama behind the show."
-John Hodgman, author of That is All

"A well-written, entertaining and accurate look at our great sport of dog shows . . . Dean makes you feel like you are right there with a brush or a show lead in your handa . . . a great accessory for anyone who wants to know more."
-David Frei, Voice of The Westminster Kennel Club and The National Dog Show and author of Angel On A Leash

"Terrific"
-Colin McEnroe, WNPR

"Superb"
-Michael Solomon, The Guardian

"Excellent"
-Benoit Denizet-Lewis, Cesar Milan blog

"If you don't know your toy group from your terriers, pick up this beguiling nonfiction account that follows Jack, a lovable, handsome Australian shepherd and an aspiring Best in Show."
-Entertainment Weekly

"Show Dog is the real thing with focus, frustration, commitment, passion, ambition and a bit of celebration at times. In the process, it is remarkably informative while delivering vivid, priceless, behind-the-scenes snapshots and a few bizarre characters from small-town America to Manhattan."
-Ranny Green, Seattle Kennel Club

"Fascinating and often very funny."
-Star magazine

"Eccentric and really fascinating, sometimes treacherous, behind-the-grooming-stand look at the show circuit."
-Virginia Prescott, New Hampshire Public Radio

"The literary answer to that laugh-out-loud movie Best in Show."
-Craig Wilson, USA Today

"A spellbinding diary written by an outsider looking in, and it's filled with intriguing observations and lessons learned. It's also quite poignant at times. Think of the movie Best in Show and then dial it back just a hair."
-David Baker, Pet Adviser

"Amazing, absolutely amazing. No matter how much you think you know about dog shows, this is the real deal. It's not just the whole history, so beautifully interwoven - [Dean has] really delved in and shown this world from every possible angle, and remarkably uncritically."
-Tracie Hotchner, DogTalk Radio

"Show Dog added greatly to my already over-the-top love for the subject.Josh has written an absorbing, intimate and good-natured journey into the making of a champion. If you're like me, you'll come for the dogs, but you'll stay for the people."
-Mary Carillo, sportscaster, co-host 2012 Westminster Show

"With Dean, curiosity reigns, making it possible to enter this subculture without the fanaticism of a disciple or the condescension of a cynic. He delivers an earnest, wry, and humorous look into what possesses people to spend nearly all their free time and money [showing dogs]."
-Wendy Toth, Petside.com

"A tale that represents the world of show dogs fairly and factually in a fashion that people outside our cloistered community will understand and appreciate. It may even persuade a few to join us."
-Billy Wheeler, Best in Show Daily