The Call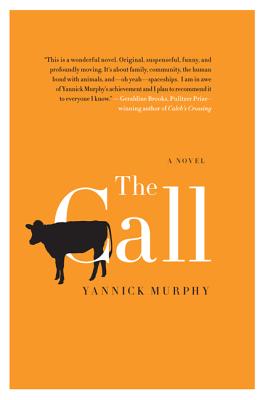 The Call
Harper Perennial, Paperback, 9780062023148, 220pp.
Publication Date: August 2, 2011
* Individual store prices may vary.
Buy at Local Store
Enter your zip code below to purchase from an indie close to you.
or
Buy Here
Description
"Yannick Murphy, while being one of our most daring andoriginal writers, is first and foremost an exquisitely attuned observer ofhuman behavior. . . . Murphy's work provides pretty much unexceededreading pleasure."
--Dave Eggers
Thewarm, wry, and patient voice of a veterinarian father tells the heartfelt storyof his young New England family enduring a moving trial of loyalty, hope, andfaith after they are confronted with an unthinkable crisis. Acclaimed author Yannick Murphy's intimate narrative style and lovely prosewill enthrall readers of Rivka Galchen, Padgett Powell, and Murphy's own Signed, Mata Hari.The Call is a "triumph of quiet humorand understated beauty" (Publishers Weekly, starred review) from anauthor that the New York Times Book Review calls "an extraordinarilygifted fabulist.
Praise For The Call…
"Its peculiar charm eludes easy categorization. . . . With its combination of Yankee stoicism and offhand poetry, the book conveys the slightly archaic feel of a biblical parable, a real accomplishment in today's hyper-contemporary fictional landscape. All told, The Call is definitely worth answering."
-Washington Post

"Remarkable. . . . The truthful evocation of family is the real triumph of 'The Call'. There is much love in this novel, and just as much truth about the pain and pleasure of family life. . . . [A] clever and beautiful book."
-Boston Globe

"Displaying an almost magical economy. . . . The Call conjures the quirky satisfactions of rural life . . . true heroism is revealed in the humanity of a taciturn and decent man."
-People (4 stars)

"Wondrously dynamic. . . . A warm-hearted paean to family devotion."
-Wall Street Journal

"Undeniably fascinating. . . . Yannick Murphy's The Call is a one-of-a-kind story…filled with forthright, understated prose reminiscent of Cormac McCarthy's."
-The Daily Beast

"Murphy pays close attention to the sensual and the macabre. . . . In the quotidian details of farm life, Murphy demonstrates how crucial it is to focus on the small, real tasks in the face of something too big and too dark to understand."
-Time Out New York

"There is beauty in these snapshots alone, yet the most striking moments appear as they play fugue to one another. . . . Told through the prose of the father's daily log, The Call is a subtle, lush, and ultimately, masterful novel."
-Nylon Magazine

"Murphy is a subtle, psychologically perceptive writer. . . . A marvelous book: sweet and poignant without ever succumbing to easy sentiment, formally inventive and dexterous without ever seeming showy. A triumph."
-Kirkus Reviews (starred review)

"Incisive and imaginative. . . . [A] hypnotically patterned, wryly funny, and warmly compassionate tale . . . Visceral detail and deep knowledge stoke this gorgeously realized novel . . . With phenomenal economy and delicious deadpan humor, Murphy dramatizes . . . the many forms of giving and healing."
-Booklist (starred review)

"This is a wonderful novel. Original, suspenseful, funny and profoundly moving. It's about family, community, the human bond with animals and--oh yeah--spaceships. I am in awe of Yannick Murphy's achievement and I plan to recommend The Call to everyone I know."
-Geraldine Brooks, Pulitzer Prize-winning author of Caleb's Crossing

"A triumph of quiet humor and understated beauty. . . . Murphy's subtle, wry wit and an appealing sense for the surreal leaven moments of anger and bleakness, and elevate moments of kindness, whimsy, and grace."
-Publishers Weekly (starred review)

"Yannick Murphy's beautiful new novel is a stirring example of what a real writer can do with form and feeling. The Call is sly, funny, scary, honest, wonderstruck and, most of all, intensely generous."
-Sam Lipsyte, author of The Ask

"This book delights with its discrete structuring. . . . The pieces snap together in odd juxtaposition, surprising, making a picture more sturdy and dependable than the seamless whole. It has the power of good old Byzantine mosaic."
-Padgett Powell, author of The Interrogative Mood

"This is a beautiful book, and . . . one that should act as a great model for using form as a scaffolding for innovation of approach, while also firing from the hip of the voice and the blood of why people started telling stories ever at all."
-HTML Giant

"Yannick Murphy's The Call, about a family dealing with the consequences of a tragic accident, explores marriage, parenthood, small-town life, medicine, and hope with a sensitivity, skill, and fearlessness that will rattle your bones."
-Ben Greenman, author of Celebrity Chekhov and What He's Poised to Do

"The Call is a nifty trick of a novel. The quick summer read that transcends its category. [It] thoroughly engrosses, entertains, and, finally, enlightens."
-New York Journal of Books

"A quirky, artful and ultimately moving story of a year in the life of country vet."
-Shelf Awareness

"The restraint around the narrative [in The Call] only highlights the beauty of Murphy's prose. . . . [Her] eye for poignant details sells this refreshingly upbeat portrait of a man's quiet strength."
-Orlando Sentinel

"Impossible to put down. . . . Refreshingly full, honest depth. . . . This is a novel's novel, the kind of book that can't spare a word, that's perfectly insular but still manage to enlighten readers about their own lives."
-Portland Mercury

"The Call, a beguiling novel by Yannick Murphy, is that rarest of creatures: a book about a happy family."
-Valley News

"The Call is an enormously affecting and lovely exploration of ordinary and extraordinary love. In prose that is as grand, startling, and particular as the New England landscape that inhabits her characters . . . Yannick Murphy tells a story that will break and repair your heart."
-Chris Adrian, author of The Great Night

"Here is a book to break the formula, both edgy and moving. . . . [it] builds into an exquisite, pointed poem to domesticity . . . Unexpected and stirring . . . [Murphy] is that rarity: a sharp writer unafraid to be tender."
-Cleveland Plain Dealer

"Murphy's eye for small-town detail and human/animal relations makes for a complex, delicate story line, and the novel as a whole carries a very real human velocity and gravity. The domestic focus and unexpected intrusions recall fiction by Dave Eggers and Vendela Vida."
-Library Journal

"This subtle, beautifully rendered novel is one of the best books of the year."
-Flavorwire

"[An] inventive novel . . . told with wry wit and unabashed anger, the story unfolds through the rural veterinarian's call notes."
-Bark

"The Call surprised me from the first page to the last and delighted me on every one in between. . . . I feel lucky to have read it."
-Yankee Magazine