The Hunchback of Neiman Marcus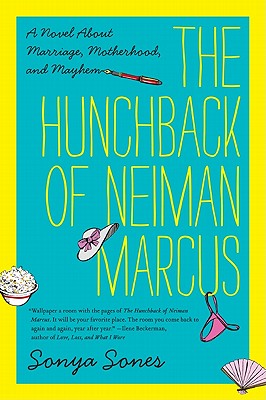 The Hunchback of Neiman Marcus
A Novel about Marriage, Motherhood, and Mayhem
HarperTorch, Paperback, 9780062024671, 421pp.
Publication Date: April 5, 2011
* Individual store prices may vary.
Buy Now
or
Shop Local
Enter your zip code below to purchase from an indie close to you.
Description
My name is Holly.This story is about me a writer who's way behindon her deadline.
But, honestly, how can I concentrate on my work when my fiftieth birthday's rushing at me like a freight train,
my hormones are making me feel like a Szechuan flambe, and my eighty-year-old mother's biting her nurses?
Not to mention the fact that my daughter's just begun applying to colleges (none of which are within a thousand-mile radius of home),
and lately my husband's been such an irritating, finger-pointing stinker that I've found myself dreaming of ways to spend his insurance money . . .
My name is Holly.This book tells my story a coming-of-middle-age story.
About the Author
Sonya Sones is the author of four acclaimed novels for teens: Stop Pretending: What Happened When My Big Sister Went Crazy; What My Mother Doesn't Know; One of Those Hideous Books Where the Mother Dies; and What My Girlfriend Doesn't Know. She lives in California with her family and only shops at Neiman's when it's having a sale.
Praise For The Hunchback of Neiman Marcus…
"[An] entertaining novel-in-verse that will have readers clamoring for more. Sones, a beloved and wildly popular YA novelist, brings poetry to life for readers, especially parents of teens and those coping with elder care, in this cleverly versified, insightful laughter-and-tears novel."
-Booklist

"Somewhere between Nora Ephron and Jennifer Weiner, Sones recounts the little ouches of aging with a perfect blend of wit and tenderness. . . . This is what chick lit should want to be when it grows up--wise, funny, and blunt."
-Library Journal

"Wallpaper a room with the pages of The Hunchback of Neiman Marcus. It will be your favorite place. The room you come back to again and again, year after year."
-Ilene Beckerman, author of Love, Loss, and What I Wore

"Funny, fresh, and heartbreakingly poignant, this book had me laughing and crying at the same time. Thank you, Sonya Sones, for finally saying what so many of us have been thinking for so long."
-Meg Cabot, author of The Princess Diaries series and Insatiable

"Every page of Sonya Sones's novel-in-verse is brimming with wit, warmth, and wisdom. You'll want to share this relatable and revelatory story about growing old 'disgracefully' with every mother and daughter you know."
-Megan McCafferty, author of the Jessica Darling series

"An achingly honest, brilliantly crafted examination of midlife. An absolute joy to read."
-Tish Cohen, author of The Truth About Delilah Blue and Inside Out Girl

"An elderly, ailing parent. A child about the fly the nest. Menopause. Tensions in a longtime marriage. . . . These are familiar midlife issues, but poetry's sharp focus enables Sones to keep them fresh . . . [as she] expertly juggles humor and pathos. . . . Marvelous."
-AARP

"If you told me I'd laugh and cry in the nail salon over a novel in VERSE . . . I'd have said that you were mad. Then I read The Hunchback of Neiman Marcus and I saw the light and fell under Sonya Sones' spell."
-Jacquelyn Mitchard, author of The Deep End of the Ocean