America's Ticking Bankruptcy Bomb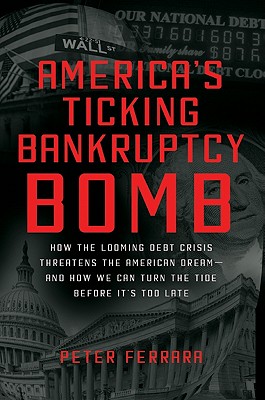 America's Ticking Bankruptcy Bomb
How the Looming Debt Crisis Threatens the American Dream--And How We Can Turn the Tide Before It's Too Late
Broadside Books, Hardcover, 9780062025777, 415pp.
Publication Date: June 14, 2011
* Individual store prices may vary.
Buy at Local Store
Enter your zip code below to purchase from an indie close to you.
or
Not Currently Available for Direct Purchase
Description
In America's Ticking Bankruptcy Bomb, conservative policy expert Peter Ferrara explores the issue that will be THE hot-button topic from now until the 2012 presidential election: the looming bankruptcy of the federal government of the United States of America. Providing indisputable evidence that the American welfare state, aggressively expanded by Barack Obama and the Democrats in Congress, is on the verge of rapid and total collapse, Ferrara offers concrete proposals for reforming entitlement programs along free market lines that will shift responsibility from centralized bureaucracies to individual Americans. For every concerned citizen, America's Ticking Bankruptcy Bomb is a must-read--a blueprint for avoiding the impending catastrophe before it's too late.

Praise For America's Ticking Bankruptcy Bomb…
"In an authoratative book which leads to an inarguable conclusion, Peter Ferrara provides an antidote for anyone still in denial about the mortal threat posed by our nation's debt--and the anti-growth policies that are adding to it."
-Mitch Daniels, Governor, Indiana