Sexual Intelligence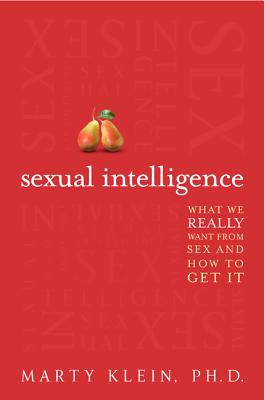 Sexual Intelligence
What We Really Want from Sex - And How to Get It
HarperOne, Paperback, 9780062026071, 242pp.
Publication Date: February 5, 2013
* Individual store prices may vary.
Buy at Local Store
Enter your zip code below to purchase from an indie close to you.
or
Buy Here
Description
In Sexual Intelligence, Dr. Marty Klein shows how our ideas about sex and ourselves are more important than a perfect body or exotic techniques. With many engaging examples from his thirty-year private practice, Marty provides a robust, practical perspective that makes it impossible for people to fail at sex because they don't aim for success.
Praise For Sexual Intelligence…
"Marty Klein is the Steve Jobs of sex advice. With beguiling ease, he takes complex issues and distills them down to their essence. Sexual Intelligence is a work of enormous wisdom and expansiveness, and will inspire readers, regardless of age, to realize their full sexual potential."
-Ian Kerner, Ph.D., author of She Comes First

"Marty Klein's is a calm voice of reason at the center of the storm raging around sex in America. His tolerant, informed approach to the unavoidable sexual difficulties we all face is a welcome antidote to the panic and ignorance clouding public discussion and private understanding."
-Christopher Ryan, Ph.D., co-author of Sex at Dawn

"Sexual Intelligence will help you fire the sex cops who have set up roadblocks in your head, and replace them with some good ideas to ponder and put into action. Dr.Klein has truly given us a helpful guide to authentic sexual satisfaction."
-Harriet Lerner, Ph.D., author of The Dance of Anger and Marriage Rules

"If you read only one book on sex and relationships during your entire lifetime, this should be it. Dr. Klein confronts the problems that have plagued couples since the beginning of time with refreshingly simple and brilliant insight."
-Paul Joannides, Psy.D., author of Guide to Getting It On

"Instead of a manual of better tricks, this book is a practical plan to improve your relationship with your sexuality. Klein liberates and provokes--and illuminates the way to change your sexual experience for good."
-Esther Perel, author of Mating in Captivity

"Read this if you want to let go of your inhibitions and improve your sex life. You might have to change your mind-set first, but Klein's advice, quizzes, diagrams, and case studies will help you do just that."
-Psychology Today

"Klein is comforting and permission-giving, while presenting boundaries that you can discuss with a partner if you have concerns. This is an easy to read, smart book with loads of information and advice. Sexual Intelligence is an important contribution to the field and to the reader."
-Dr. Pepper Schwartz, Ph.D., sex/relationship expert, AARP; chief relationship expert, PerfectMatch.com