Little Black Dress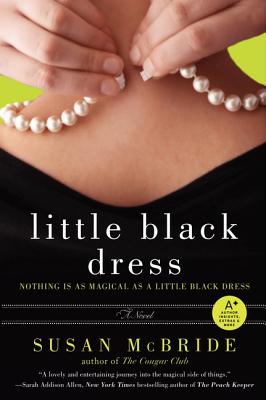 Little Black Dress
William Morrow & Company, Paperback, 9780062027191, 320pp.
Publication Date: August 23, 2011
* Individual store prices may vary.
Buy at Local Store
Enter your zip code below to purchase from an indie close to you.
or
Buy Here
Description
Two sisters whose lives seemed forever intertwined are torn apart when a magical little black dress gives each one a glimpse of an unavoidable future
Antonia Ashton has worked hard to build a thriving career and a committed relationship, but she realizes her life has gone off track. Forced to return home to Blue Hills when her mother, Evie, suffers a massive stroke, Toni finds the old Victorian where she grew up as crammed full of secrets as it is with clutter. Now she must put her mothers house in orderand uncover long-buried truths about Evie and her aunt, Anna, who vanished fifty years earlier on the eve of her wedding. By shedding light on the past, Toni illuminates her own mistakes and learns the most unexpected things about love, magic, and a little black dress with the power to break hearts . . . and mend them.
About the Author
Susan McBride is theUSA Todaybestselling author ofBlue Blood and the Debutante Dropout Mysteries that include The Good Girl's Guide to Murder, The Lone Star Lonely Hearts Club, Night of the Living Deb, Too Pretty to Die, and Say Yes to the Death. She also writes the bestselling River Road Mysteries and has penned three women s fiction titles: The Truth About Love and Lightning, Little Black Dress, andThe Cougar Club. She chronicled her bout with breast cancer in the short memoir, In the Pink: How I Met the Perfect (Younger) Man, Survived Breast Cancer, and Found True Happiness After Forty. She lives in St. Louis, Missouri, with her husband and daughter.
Praise For Little Black Dress…
"Written with touching insight into family relationships and what we call home, The Little Black Dress is a lovely and entertaining journey into the magical side of things. I bet you'll never look at your closet the same way again."
-Sarah Addison Allen

"With a deft hand and a sensitive heart, Susan McBride spins a magical tale. A bittersweet, Gothic past melds perfectly with a tender and revelatory present. Part mystery, part love story. Emotionally satisfying, LITTLE BLACK DRESS is an enchanting escape into a magical and wonderful world. A delight to read."
-International Bestselling Author M.J. Rose

"I'll read anything by Susan McBride."
-Charlaine Harris, New York Times Bestselling Author

"Little Black Dress is big on heart, secrets and magic. This enchanting novel is a book-shelf essential."
-Karin Gillespie, author of the Bottom Dollar Girl series and co-author of The Sweet Potato Queen's First Big Ass Novel.

"Susan McBride's LITTLE BLACK DRESS sparkles with magic! It's part love story, part mystery, part family saga, all wrapped together in the wonder of an amazing little dress that will leave you crying and cheering. I loved this book!"--
-Judy Merrill Larsen, author of ALL THE NUMBERS

"LITTLE BLACK DRESS is a luminous story filled with magic and hope. I loved this tender, touching and enchanting saga about the unique bond of mothers, daughters and sisters."
-Ellen Meister

"LITTLE BLACK DRESS is a delightful, emotional and thoroughly engaging exploration of the connections that bind women together and the magic that's created when mothers, daughters and sisters learn to open their eyes and hearts to their truest desires."
-Marilyn Brant, author of ACCORDING TO JANEMarilyn Brant, author of ACCORDING TO JANE

"I'm madly in love with this full-of-surprises story about secrets, family ties--and one magical little black dress. One of my favorite novels of the year."
-Melissa Senate, author of The Secret of Joy and The Love Goddess' Cooking School

"With sparkle and wit, Susan McBride crafts both a family saga of painful secrets and a modern story of a woman who thinks she's got it all under control -- until everything she thought she knew blows apart. Little Black Dress is a beguiling story of fate, love, and magic."
-Kristina Riggle, author of Things We Didn't Say

"...well-told tale of a mother-daughter relationship is fraught with secrets, disappointment, and unspoken love...well-paced love story to those who can appreciate three...sexy heroines who know history and have rich ones of their own."
-Publishers Weekly

"Seamlessly weaving their stories together, McBride relates a tale of love that endures."
-Southern Pines Pilot