When We Danced on Water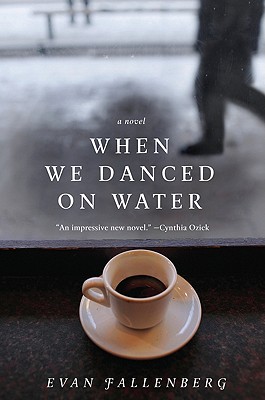 When We Danced on Water
Harper Perennial, Paperback, 9780062033321, 237pp.
Publication Date: May 17, 2011
* Individual store prices may vary.
Buy at Local Store
Enter your zip code below to purchase from an indie close to you.
or
Buy Here
Description
Fromacclaimed author Evan Fallenberg, an exquisitelycrafted debut novel tells the story of a preeminent male ballet dancer in theautumn of his career--a Jew whose talent once saved him from the Nazis--whosefading passion for life will flare back to life after a new romance links himto a younger woman fleeing the ghosts of her past as an Israeli Soldier. Fallenberg's Tel Aviv-set tale that will resonate withreaders of Wladyslaw Szpilman'sThe Pianist, Dalia Sofer'sThe Septembers of Shiraz, and Thrity Umrigar's The Space Between Us, as well as any whohave been touched by war or diaspora, as two characters' intimate journeypoignantly explores the pain of fractured pasts, the hope for second chances, thepotency of artistic catharsis, and the certainty that love can conquer all.
Praise For When We Danced on Water…
"Lyrical...an enjoyable read...[Fallenberg is] sensitively attuned to the power of individual words. His fluid prose is carefully composed."
-Jerusalem Post

"Quietly spectacular and emotionally satisfying...Fallenberg achieves the near-impossible, superbly crafting an altogether unique Holocaust story made plausible through utterly gripping realism."
-Miami Herald

"When We Danced on Water is literary fiction that reads like a long short story. Packed with intensity in both plot and psychology, its effect is disproportionate to its brevity. Reading about Teo and Vivi is like experiencing a lifelong relationship with each protagonist."
-Forward

"When We Danced on Water is a haunting, beautifully written story about the unlikely friendship between two artists...Fallenberg's novel is exquisite."
-Edge

"Fallenberg's precise prose moves fluidly between the delicate and the bold, much like the aging dancer whose story he tells with such elegance. His spare style sneaks up on the reader, enhancing the emotionality inherent in his subject."
-Publishers Weekly

"As their pasts are revealed, an unexpected blessing bears testament to the beauty and the sustainability of their unconventional relationship."
-Booklist

"The sensitivity that Fallenberg brings to the writing devoted to Teo's life as a dancer in the Danish Royal Ballet, in the wings and on stage, is passionately evocative."
-Shelf Awareness

"The poetic [When We Danced on Water] is read easily in a few sittings, and the light of Tel Aviv, the pure beauty and sensuality of dance and the powerful affirmation of life, are deeply felt."
-New York Jewish Week

"Fallenberg's paradoxical propositions of passion as suffering, and that a life without passion is devoid of meaning, leaves us with an insolvable quandary and a Buddhist diagnosis: life is suffering, one way or another."
-Brooklyn Rail

"Highly recommended."
-Washington Jewish Week