Give Us Liberty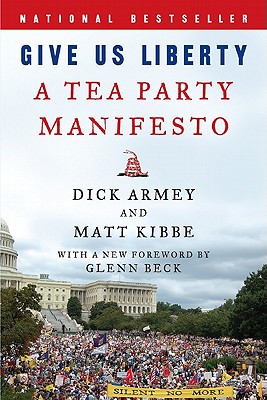 Give Us Liberty
A Tea Party Manifesto
Harper Paperbacks, Paperback, 9780062045454, 265pp.
Publication Date: August 30, 2011
* Individual store prices may vary.
Buy at Local Store
Enter your zip code below to purchase from an indie close to you.
or
Not Currently Available for Direct Purchase
Description
Give Us Liberty is written for every American who is ready to stand up to the federal governments unprecedented power, spending, and intrusion on personal freedom. As millions are realizing, our countrys future has been dangerously compromised as the national debt spirals out of sight to pay for a litany of irresponsible federal policies: Obamacare, Wall Street sweetheart deals, liberals pet social programs, Congressional pork, foreign aid, and new military adventures. Dick Armey and Matt Kibbeeconomists and influential supporters of Tea Party activists and candidates across the countryexplain whats at stake, why limited government is the answer to our crisis, and how we can renew American prosperity by studying the lessons of the revolutionary era. This paperback edition also features a new foreword by Glenn Beck.
Praise For Give Us Liberty…
"My friends Dick Armey and Matt Kibbe uniquely understand what this movement is really all about, where it's going, and why it's happening now. Give Us Liberty is a detailed recounting of both the philosophical evolution and historical development of the Tea Party. . . . If you find inspiration in these pages, know this: You must get involved. The incredible burden of responsibility put upon future generations by our Founding Fathers ultimately rests on your shoulders."
-Glenn Beck