Kingdom New Testament-OE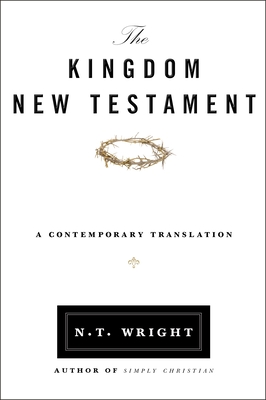 Kingdom New Testament-OE
A Contemporary Translation
HarperOne, Paperback, 9780062064929, 526pp.
Publication Date: November 2012
* Individual store prices may vary.
Buy Now
or
Shop Local
Enter your zip code below to purchase from an indie close to you.
Description
The New Testament for the Twenty-First Century.
Most readers of the New Testament have grown overly familiar with the biblical text, losing sight of the wonder and breadth of its innovative ideas and world-changing teachings about the life and role of Jesus of Nazareth. N. T. Wright invigorates these sacred texts with an all-new English translation that allows contemporary readers to encounter these historic works afresh.
With the insight and expertise of "the world's leading New Testament scholar" (Newsweek), this approachable, engaging translation features accessible, modern prose that stays true to the character of the ancient Greek text by maintaining the vibrancy and vigor of the original works while also conveying the most accurate rendering possible.
The Kingdom New Testament will help the next generation of Christians acquire a firsthand understanding of what the New Testament had to say in its own world, and what it urgently has to say in ours.
About the Author
N. T. (Tom) Wright is the Bishop of Durham in the Church of England. He is a prolific author and noted New Testament scholar. He has written more than thirty books, both at the scholarly level (including Jesus and the Victory of God, The Resurrection of the Son of God, and The Meaning of Jesus) and for a popular audience (including Simply Christian, The Meal Jesus Gave Us (WJK), and Who Was Jesus?).
Praise For Kingdom New Testament-OE…
"Wright's Kingdom New Testament is both faithful and fresh, both lucid and enlightening, both careful and creative. Bringing to bear his wealth of scholarship and a lifetime of study, it will serve us well for many years to come. Enthusiastically recommended."
-Dr. Ben Witherington, III, Amos Professor of New Testament for Doctoral Studies, Asbury Theological Seminary

"Wright, the world's most influential New Testament interpreter, gives us in The Kingdom New Testament, a readable and dynamic translation marked by precision, personality, and power. The Kingdom New Testament will be unsurpassed-- this is the one translation I'd want everyone to read."
-Scot McKnight, Karl A. Olsson Professor in Religious Studies, North Park University

"[The] Kingdom New Testament: a comforting voice for struggling newcomers, a fresh voice for translation-tired veterans. I know of no one more qualified to take the message of the New Testament and put it into words that the modern person can fully understand."
-Nicholas Perrin, Franklin S. Dyrness Professor of Biblical Studies, Wheaton College

Translations often are either too 'popular' or too 'formal.' This fresh translation of the New Testament strikes a fine balance between the two as it ably rescues truth from familiarity. I recommend it highly to all who love the New Testament.
-Kenneth E. Bailey, Professor of New Testament (Emeritus) The Ecumenical Institute, (Tantur) Jerusalem

"[The Kingdom New Testament] will confirm Professor Wright's position as the J.K.Rowling of Christian Publishing."
-Church Times

"I hope everyone gets a copy. . . . Translation is brisk and energetic, gender neutral, and has some real surprises. . . . There is something quite distinct about [Wright's] translation: he wants the reader to feel the 1st Century, to hear a Jew call Jesus 'Messiah''or 'King.'"
-Scot McKnight, Jesus Creed, Patheos

"The Kingdom New Testament sparkles with many gems of spirited English."
-Books&Culture

"Reading Wright's volume feels like sitting in on a Greek Bible class with a great teacher."
-Christian Century

"Wright's readable text serves as a refreshing, helpful way to re-hear familiar narratives."
-Religious Herald