Weeds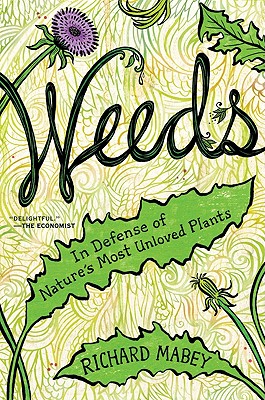 Weeds
In Defense of Nature's Most Unloved Plants
Ecco Press, Hardcover, 9780062065452, 324pp.
Publication Date: June 28, 2011
* Individual store prices may vary.
Buy at Local Store
Enter your zip code below to purchase from an indie close to you.
or
Buy Here
Description
A] witty and beguiling meditation on weeds and their wily ways .You will never look at a weed, or flourish a garden fork, in the same way again. Richard Holmes, author of The Age of Wonder
In this fascinating, richly detailed book, Richard Mabey gives weeds their full due. Carl Zimmer, author of Evolution
Richard Mabey, Great Britain's Britain's greatest living nature writer (London Times), has written a stirring and passionate defense of nature's most unloved plants. Weeds is a fascinating, eye-opening, and vastly entertaining appreciation of the natural world's unappreciated wildflowers that will appeal to fans of David Attenborough, Robert Sullivan's Rats, Amy Stewart's Wicked Plants, and to armchair gardeners, horticulturists, green-thumbs, all those who stop to smell the flowers.
Praise For Weeds…
"Fascinating. . . . [A] loving tribute to the common weed."
-Associated Press

"Entertaining. . . . [A] sprightly journey through horticultural history."
-Wall Street Journal

"Wry and subtle. . . . Mabey argues without scolding, that at a time of great environmental change and uncertainty, weeds may soon be all we've got left."
-New York Times Book Review

"Smart. . . . Mabey is at his best when he takes us along on his own weedy adventures."
-Washington Post

"Like Michael Pollan in "The Botany of Desire," Mabey shows that it is not at all clear here who is in charge, who has the moral high ground and who will survive long after the last weed has been pulled from the last over-tended suburban acre."
-Los Angeles Times

"Excellent. . . . He tracks humanity's ongoing tussle with weeds, all in prose that delights at every turn."
-Cleveland Plain Dealer

"Elegant and thoughtful. . . . I may not turn the mower aside when I encounter the next thistly, pod-bearing stem. But I will stop, stoop and take a closer look."
-Dallas Morning News

"A jaunty chronicle of botany and history that ventures from the first farm fields of Mesopotamia to the broken asphalt of our modern cities."
-Charleston Post & Courier

"A lyrical, wise, witty, intimate musing about garden outcasts—and about us, too."
-Minneapolis Star Tribune

"As witty and lively as it is comprehensive. . . . A stimulating sojourn with the world's most fascinating and ingenious plants."
-Portsmouth Herald

"Enchanting. . . . Weeds charms as much as it informs. . . . After reading this book, you will likely view the invaders in your own garden with a newfound respect; it's quite possible you'll find a bit of romance in them, too."
-Barnes & Noble Review

"Weeds are often described as plants in the wrong place. In fact, explains Richard Mabey in this delightful and casually learned book, they are in precisely the right place for themselves: next to us."
-The Economist

"Weeds may seem a soft subject for a book. Not so in the hands of Richard Mabey.... Mabey's book... suggests that weeds may, in fact, have made civilization possible—and, with climate change, may keep the planet alive."
-Financial Times

"Enlightening. . . . After reading this book, you'll look down at the ground with more interest and appreciation—and think twice before pulling something out."
-New York Journal of Books

"Captivating. . . . Mabey is a comprehensive guide who wears his learning as lightly as a dandelion seedhead. There's no fluff here, though, only fascinating fodder for thought."
-BookPage, Lifestyle Column Top Pick

"A charming paean to plants sometimes ignored and often detested."
-Science News

"[W]onderful. . . . [P]resents a compelling case that weeds, the opportunists of the plant world, play a vital role in filling the empty spaces of the earth caused by natural disasters or human events."
-Washington Independent Review of Books

"Outstanding. . . . An engrossing and captivating exploration of the tenacious, often beautiful, sometimes destructive, plants we designate as weeds."
-Shelf Awareness

"A lively [and] fascinating tale of history and botany.... Mabey deftly argues that the world's most unloved plants deserve our fascination and respect."
-Publishers Weekly (starred review)

"A loving and lyrical tribute... Mabey's deft and spirited treatise on nature's supervillains will have readers remembering A.A. Milne's defense of weeds in Winnie the Pooh: 'Weeds are flowers too, once you get to know them.'"
-Kirkus Reviews

"With a mixture of dry wit and serious science, Mabey's provocative book . . . suggests an alliance with weeds—the plants that may save us in a time of global warming."
-Booklist

"A readable, wide-ranging, carefully documented, and personal look at a group of plants not often written about in a sympathetic manner. Recommended."
-Library Journal

"Witty and beguiling... You will never look at a weed, or flourish a garden fork, in the same way again."
-Richard Holmes, author of The Age of Wonder

"Mabey's personal, historical, and cultural viewpoint converts weeds into intellectually stunning wild flowers!"
-Bill Streever, author of Cold

"Fascinating [and] richly detailed... Weeds, Mabey makes clear, are a reflection of our own culture—perhaps, our own weediness."
-Carl Zimmer, author of Evolution