The Demi-Monde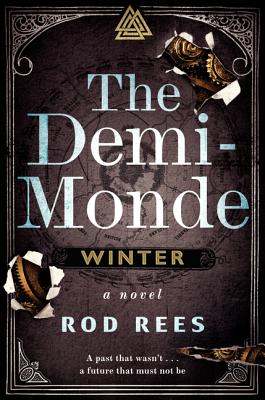 The Demi-Monde
Winter
William Morrow, Hardcover, 9780062070340, 528pp.
Publication Date: December 1, 2011
* Individual store prices may vary.
Buy at Local Store
Enter your zip code below to purchase from an indie close to you.
or
Not Currently Available for Direct Purchase
Description
The Demi-Monde:
1. A subclass of society whose members embrace a decadent lifestyle and evince loose morals.
2. A shadow world where the norms of civilized behavior have been abandoned.
3. A massive multiple-player simulation technology that re-creates in a wholly realistic cyber-milieu the threat-ambiance and no-warning aspects of a hi-intensity, deep-density, urban Asymmetric Warfare Environment.
4. Hell.
Welcome to the Demi-Monde, the ultimate in virtual reality—a military training ground and vivid, simulated world of cruelty and chaos run by psychopaths, madmen and fanatics.
If you die here, you die in the Real World . . .
In the year 2018, the Demi-Monde is the most sophisticated, complex and unpredictable computer simulation ever created, devised specifically to train soldiers for the nightmarish reality of urban warfare. A virtual world of eternal civil conflict, its thirty million inhabitants—"Dupes"—are ruled by cyber-duplicates of some of history's cruelest tyrants: the fanatical Nazi butcher Reinhard Heydrich; Stalin's arch executioner Lavrentii Beria; the torture-loving Grand Inquisitor TomÁs de Torquemada; the Reign of Terror's bloodthirsty mastermind Maximilien Robespierre.
But something has gone horribly wrong inside the Demi-Monde, and the U.S. president's daughter, Norma, has been lured into this terrifying shadow world, only to be trapped there. Her last hope of rescue is Ella Thomas, an eighteen-year-old jazz singer and very reluctant heroine. But when Ella infiltrates the Demi-Monde and begins her hunt for Norma, she soon discovers the walls containing the evils of this simulated environment are dissolving—and the Real World is in far more danger than anyone knows. With the help of resistors determined to understand their world, Ella must race to save Norma and stop an apocalypse . . . but the clock is ticking.
Blending fact and fantasy, history and religion, military and existential themes, epic adventure and dark wit, dystopia and steampunk in a wholly original and driving narrative stream, The Demi-Monde: Winter is inventive fiction at its finest.
Praise For The Demi-Monde…
"Explosively creative barely defines Rod Rees's The Demi-Monde Winter. It blew me away as the novel skated on the razor's edge between where we are today and where we're headed tomorrow. As much a cautionary tale as a gripping thriller cut from a digital cloth."
-James Rollins, New York Times bestselling author of The Devil Colony

"Strong characters, along with the clever interweaving of seemingly disparate plot threads, make this a standout selection for fans of high-tech sf and cyberfiction."
-Library Journal.com (starred review)

"Novel and fresh….An adventure tale wrapped in a computer simulation."
-Pittsburgh Tribune-Review

"A brilliant, high concept series that blends science fiction and thriller, steampunk and dystopian vision. If Neil Gaiman, Neal Stephenson, James Rollins, and Clive Cussler participated in Suzanne Collins's THE HUNGER GAMES, the result might be something akin to the dark and ingenious madness of Rees's THE DEMI MONDE: WINTER."
-BookReporter (starred review)

"Elegantly constructed, skillfully written, and absolutely impossible to stop reading."
-Booklist (starred review)

"Superb….Such an inventive world is engrossing on its own, but the wildly unpredictable plot and characters make for plenty of surprises and twists."
-Wichita Eagle