Darwin's Doubt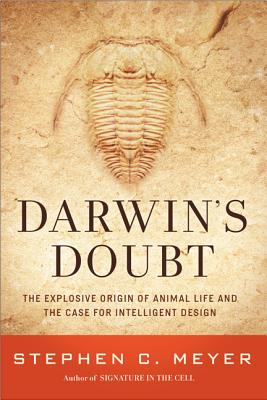 Darwin's Doubt
The Explosive Origin of Animal Life and the Case for Intelligent Design
HarperCollins Publishers, Hardcover, 9780062071477, 498pp.
Publication Date: June 2013
* Individual store prices may vary.
Buy Now
or
Shop Local
Enter your zip code below to purchase from an indie close to you.
Description
The author of "The Signature in the Cell" now tackles the most controversial aspect of Charles Darwin's evolutionary theory and expands the scientific argument for intelligent design.
About the Author
He is coauthor ofScience and Evidence of Design in the Universe (Ignatius, 2002), and coeditor of Darwinism, Design and Public Education (Michigan State University Press, 2003). Meyer has contributed to numerous scholarly books, including Debating Design: From Darwin to DNA (Cambridge University Press, 2004). He has published articles in major newspapers and magazines such as The Wall Street Journal, The Los Angeles Times, The Washington Times, The Seattle Times, The Atlanta Journal-Constitution, The Chicago Tribune, The Houston Chronicle, WorldNetDaily.com, National Review, Insight and First Things. He has appeared on national television and radio programs such as Fox News, PBS's TechnoPolitics and Freedom Speaks, MSNBC's Hardball with Chris Matthews, and NPR's Talk of the Nation and Science Friday. He coauthored the film, Unlocking the Mystery of Life, which has recently aired on PBS stations around the country.