Brain Wars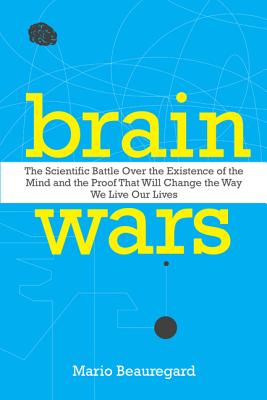 Brain Wars
The Scientific Battle Over the Existence of the Mind and the Proof That Will Change the Way We Live Our Lives
HarperOne, Hardcover, 9780062071569, 256pp.
Publication Date: April 24, 2012
* Individual store prices may vary.
Buy at Local Store
Enter your zip code below to purchase from an indie close to you.
or
Buy Here
Description
The brain can be weighed, measured, scanned, dissected, and studied. The mind that we conceive to be generated by the brain, however, remains a mystery. It has no mass, no volume, and no shape, and it cannot be measured in space and time. Yet it is as real as neurons, neurotransmitters, and synaptic junctions. It is also very powerful.
from Brain Wars
Is the brain "a computer made of meat," and human consciousness a simple product of electrical impulses? The idea that matter is all that exists has dominated science since the late nineteenth century and led to the long-standing scientific and popular understanding of the brain as simply a collection of neurons and neural activity. But for acclaimed neuroscientist Mario Beauregard, Ph.D., along with a rising number of colleagues and others, this materialist-based view clashes with what we feel and experience every day.
In Brain Wars, Dr. Beauregard delivers a paradigm-shifting examination of the role of the brain and mind. Filled with engaging, surprising, and cutting-edge scientific accounts, this eye-opening book makes the increasingly indisputable case that our immaterial minds influence what happens in our brains, our bodies, and even beyond our bodies. Examining the hard science behind "unexplained" phenomena such as the placebo effect, self-healing, brain control, meditation, hypnosis, and near-death and mystical experiences, Dr. Beauregard reveals the mind's capabilities and explores new answers to age-old mind-body questions.
Radically shifting our comprehension of the role of consciousness in the universe, Brain Wars forces us to consider the immense untapped power of the mind and explore the profound social, moral, and spiritual implications that this new understanding holds for our future.
About the Author
MARIO BEAUREGARD, PhD, is currently an associate research professor in the departments of psychology and radiology and at the Neuroscience Research Centre, Universit? de Montr?al. He is the author of more than one hundred publications in neuroscience, psychology and psychiatry. In 2000, Beauregard was selected by the World Media Net as one of the One Hundred Pioneers of the 21st Century. Beauregard is the author of a number of books, including The Spiritual Brain. He lives in the Montreal area.
Praise For Brain Wars…
"Brain Wars explains why the prevailing brain-mind paradigm is falling apart and why we are increasingly being forced to reconsider the nature of consciousness. The consequences of this paradigm shift are profound, and Mario Beauregard does a magnificent job in explaining why."
-Dean Radin PhDCo-Editor-in-Chief, Explore: The Journal of Science and Healing Senior Scientist Institute of Noetic Sciences

"Mario Beauregard shows convincingly that the materialistic philosophy of the 19th century is an impoverished framework incompatible with contemporary science, from physics to psychology. The concepts he develops in Brain Wars are required reading for scientific literacy in today's world."
-Bruce Greyson, M.D. Research psychiatrist, University of Virginia. Co-author of Irreducible Mind

"In this ground-breaking work, neuroscientist Mario Beauregard cites a range of scientific studies challenging many widely held materialistic assumptions about the relation between the mind and brain."
-B. Alan Wallace, Ph.D.President, Santa Barbara Institute for Consciousness Studies

"The assumption that the brain makes consciousness, like the liver makes bile, and that human consciousness is confined to the brain and body, will not endure because it is unscientific, and cannot account for how consciousness manifests in the world. In this important book, Dr. Mario Beauregard shows why."
-Larry Dossey, MDAuthor of Reinventing Medicine and The Power of Premonitions

"Dr. Beauregard describes that our mind/consciousness has a fundamental and irreducible nature, and that it sometimes can be experienced independently from the body because it is not limited to our brain. Brain Wars clearly announces the end of physicalism, reductionism, materialism and objectivism in science."
-Pim van Lommel, cardiologist, author of Consciousness beyond Life

Provocative and accessible, this book is ultimately less about hard science and more about the mind-body problem and philosophy of materialistic science.
-Library Journal