Need, Speed, and Greed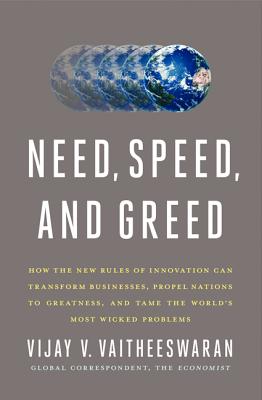 Need, Speed, and Greed
How the New Rules of Innovation Can Transform Businesses, Propel Nations to Greatness, and Tame the World's Most Wicke
HarperBusiness, Hardcover, 9780062075994, 293pp.
Publication Date: March 13, 2012
* Individual store prices may vary.
Buy Now
or
Shop Local
Enter your zip code below to purchase from an indie close to you.
Description
Over the past few decades, globalization and Googlization have kicked off the first phase of an innovation revolution more profound and more powerful than any economic force since the arrival of Europeans on North American shores half a millennium ago. These developments have brought us such advances as the Web, social networking, 24/7 connectivity, and global markets.
But the benefits of all this progress have not been shared fairly among all. It is true that the elites of Mumbai are closer today to the elites of Manhattan than they were two decades ago, but what about Kansas? The hard-working salarymen of the developed world are not getting wealthier, but the economic elites who have mastered the new rules of global innovation are. Even as rural women in Africa and Asia have seen their lives transformed by mobile phones and the Internet, the middle classes and blue-collar workers in prosperous countries everywhere have been squeezed by the new global realities. And as the first phase of the innovation revolution gives way to a much greater transformation, America and other rich societies must find a path to inclusive growth or else risk being left behind by history.
All this leads to the central political and economic question of our age: How can the extraordinary benefits of the innovation revolution be shared more equitably among all of society? In Need, Speed, and Greed, global correspondent for the Economist Vijay V. Vaitheeswaran answers that question, offering the essential insiders guide to this new world of innovation. Drawing on the best of the academic and field work in this emerging area, Need, Speed, and Greed inspires and empowers readers to improve their lives, their work, and perhaps even the world.
About the Author
Vijay V. Vaitheeswaran is an award-winning global correspondent for the "Economist". He is a member of the Council on Foreign Relations, an adviser to the World Economic Forum, and an adjunct faculty member at NYU s Stern School of Business. He is also the author of Zoom: The Global Race to Fuel the Car of the Future (co-authored with Iain Carson), and Power to the People: How the Coming Energy Revolution Will Transform an Industry, Change Our Lives, and Maybe Even Save the Planet. His op-eds have appeared in the New York Times and the Wall Street Journal, and he is a regular guest on NPR s Marketplace, PBS s NewsHour, ABC s Nightline, and other leading programs.
Praise For Need, Speed, and Greed…
"Need, Speed, and Greed is an absorbing and deeply insightful guide to the wild new landscape of global innovation. It is a must-read for strategists and entrepreneurs alike.
-Paul Saffo, Managing Director of Foresight at Discen Analytics

"A great Atlas for worlds known and unknown"
-Juan Enriquez, Managing Director of Excel Venture Management, author of Homo Evolutis and As the Future Catches You

"The perfect primer for the postindustrial age….an insightful assessment of the changing global economy, complete with recommendations for how companies can thrive in a perpetually disruptive environment….[An] exemplary narrative."
-Kirkus Reviews