Literary Rogues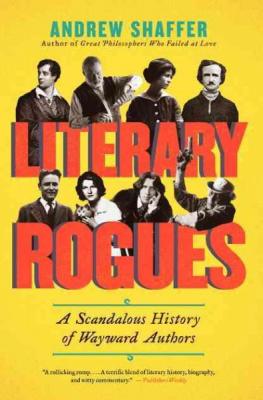 Literary Rogues
A Scandalous History of Wayward Authors
Harper Perennial, Paperback, 9780062077288, 297pp.
Publication Date: February 5, 2013
* Individual store prices may vary.
Buy at Local Store
Enter your zip code below to purchase from an indie close to you.
or
Not Currently Available for Direct Purchase
Description
A Wildly Funny and Shockingly True Compendium of the Bad Boys (and Girls) of Western Literature
Rock stars, rappers, and actors haven't always had a monopoly on misbehaving. There was a time when authors fought with both words and fists, a time when poets were the ones living fast and dying young. This witty, insightful, and wildly entertaining narrative profiles the literary greats who wrote generation-defining classics such as The Great Gatsby and On the Road while living and loving like hedonistic rock icons, who were as likely to go on epic benders as they were to hit the bestseller lists. Literary Rogues turns back the clock to consider these historical (and, in some cases, living) legends, including Edgar Allan Poe, Oscar Wilde, Zelda and F. Scott Fitzgerald, Ernest Hemingway, Dorothy Parker, Hunter S. Thompson, and Bret Easton Ellis. Brimming with fasci- nating research, Literary Rogues is part nostalgia, part literary analysis, and a wholly raucous celebration of brilliant writers and their occasionally troubled legacies.
Praise For Literary Rogues…
"In this rollicking romp through a gallery of writers whose genius came with a price (alcoholism, drug addiction, depression, and other troubles), Shaffer offers a terrific blend of literary history, biography, and witty commentary."
-Publishers Weekly

"Entertaining and well-researched."
-Kirkus Reviews

"'Great Philosophers Who Failed at Love' extends the schadenfreude to the boudoir."
-New York Times Book Review

"If you're in dutch with your valentine, give him Andrew Shaffer's book, which recounts the tortured love lives of 37 thinkers. Compared to them, you'll look as saintly as St. Thomas himself—who, Shaffer tells us, once chased a prostitute out of his room with a hot poker."
-Martha Stewart Whole Living

"Indispensable advice for all lovers—and especially for those who think they should learn about the art of love from philosophers. A wonderful summary of the musings on love by some of history's greatest and most idiosyncratic minds."
-Clancy Martin, editor of Love, Lies, and Marriage