The Other Normals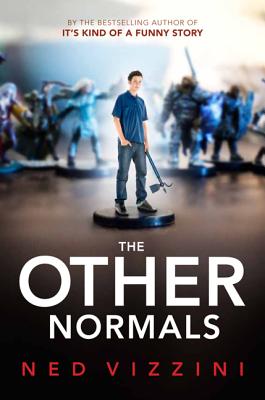 The Other Normals
Balzer & Bray/Harperteen, Hardcover, 9780062079909, 387pp.
Publication Date: September 2012
* Individual store prices may vary.
Buy Now
or
Shop Local
Enter your zip code below to purchase from an indie close to you.
Description
Given the chance, fifteen-year-old Peregrine "Perry" Eckert would dedicate every waking moment to Creatures & Caverns, an epic role-playing game rich with magical creatures, spell casting, and deadly weapons. The world of C&C is where he feels most comfortable in his own skin. But that isn't happeningnot if his parents have anything to do with it. Concerned their son lacks social skills, they ship him off to summer camp to become a man. They want him to be outdoors playing with kids his own age and meeting girlsrather than indoors alone, with only his gaming alter ego for company. Perry knows he's in for the worst summer of his life.
Everything changes, however, when Perry gets to camp and stumbles into the World of the Other Normals. There he meets Mortin Enaw, one of the creators of C&C, and other mythical creatures from the game, including the alluring Ada Ember, whom Perry finds more beautiful than any human girl he's ever met. Perry's new otherworldly friends need his help to save their princess and prevent mass violence. As they embark on their quest, Perry realizes that his nerdy childhood has uniquely prepared him to be a great warrior in this world, and maybe even a hero. But to save the princess, Perry will have to learn how to make real connections in the human world as well.
Bestselling author Ned Vizzini delivers a compulsively readable and wildly original story about the winding and often hilarious path to manhood.
About the Author
Ned Vizzini (1981-2013) began writing for the New York Press at the age of fifteen. At nineteen, he published Teen Angst? Naaah . . . , his autobiography of his years at Stuyvesant High School. His debut teen novel, Be More Chill, was named a Best Book of the Year by Entertainment Weekly and selected for the Today Show Book Club by Judy Blume. It s Kind of a Funny Story, a cult classic, was adapted into a feature film and was named one of the 100 Best-Ever Teen Novels by National Public Radio. The Other Normals, his third novel, was a Junior Library Guild selection. He also wrote for television, including MTV s hit show Teen Wolf. His books have been translated into twenty-five languages.
Praise For The Other Normals…
"With a deft sense of humor and a keen ear for funny and realistic teen dialogue, Vizzini explores one teen everyman's quest to become a hero, one roll of the six-sided die at a time …. Great geeky fun."
-Kirkus Reviews

"[A] lighthearted yet bitingly funny fantasy … Through the protagonist's incisive observations, rampant insecurities, and unapologetic embrace of nerd-culture, Vizzini depicts the teen male experience with authenticity and honesty."
-The Horn Book

"Perry is lovably awkward, and his goofy eagerness is offset by his bitingly funny observations…. Vizzini's true strength is in authentically depicting the skills needed to survive growing up."
-ALA Booklist

"THE OTHER NORMALS is wildly imaginative, incredibly funny, and weirdly wise. I don't know where Vizzini gets this stuff —it's like he's tapped into the collective unconscious of alienated adolescents everywhere."
-Lev Grossman, New York Times bestselling author of THE MAGICIAN and THE MAGICIAN KING

"Vizzini has created a likable geek in Perry and an interesting alternate world that could easily be the setting for more adventures. This book will be enjoyed by readers open to something that straddles the line between fantasy and science fiction."
-School Library Journal

"A fast-paced coming-of-age story with a fascinating premise which, to the great credit of the author, is seamless and strangely believable."
-R.A. Salvatore, New York Times Bestselling author of CHARON'S CLAW and The Dark Elf Trilogy

Praise for IT'S KIND OF A FUNNY STORY: "This book offers hope in a package that readers will find enticing, and that's the gift it offers."
-Booklist (starred review)

Praise for IT'S KIND OF A FUNNY STORY: "A well-paced narrative...filled with humor and pathos."
-School Library Journal

Praise for IT'S KIND OF A FUNNY STORY: "This is an important book."
-New York Times Book Review