Proof of Heaven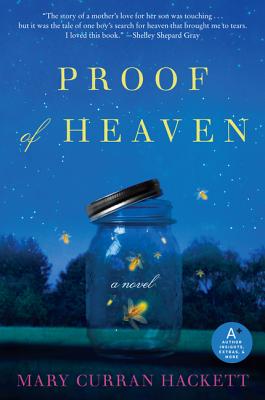 Proof of Heaven
William Morrow & Company, Paperback, 9780062079985, 297pp.
Publication Date: November 1, 2011
* Individual store prices may vary.
Buy Now
or
Shop Local
Enter your zip code below to purchase from an indie close to you.
Description
A mothers faith, a childs courage, a doctors dedicationa moving and thought-provoking tale of hope, love, and family
He might be young, but Colm already recognizes the truth: that hes sick and not getting better. His mother, Cathleen, fiercely believes her faith will protect her ailing son, but Colm is not so sure. With a wisdom far beyond his years, Colm has come to terms with his probable fate, but he does have one special wish. He wants to meet his father who abandoned his beloved mother before Colm was born.
But the quest to find the dying boys missing parent soon becomes a powerful journey of emotional discoverya test of belief and an anxious search for proof of heaven.
A magnificent debut novel, Mary Curran Hacketts Proof of Heaven is a beautiful and unforgettable exploration of the power of love and the monumental questions of life, death, and the afterlife.
About the Author
Mary Curran Hackett lives with her husband and children in Cincinnati, Ohio.
Praise For Proof of Heaven…
"Proof of Heaven belongs on any keeper shelf...beautifully written, mesmerizing and tragic, thought-provoking, and a reaffirmation of faith. The story of a mother's love for her son was touching...it was the tale of one boy's search for heaven that brought me to tears. I loved this book."
-Shelley Shepard Gray

"Proof of Heaven is a remarkable first novel that explores the intersections of science and religion, medicine and faith….Reminiscent of Carol Cassella's recent work, this is an emotionally fulfilling, spiritually inviting, thought-provoking novel."
-Booklist

"A stirring and remarkable, life-affirming debut…Kudos to Hackett for presenting a real world, gritty yet soaring tale in which humans must make personal choices between hope and hopelessness...And rest assured that once you've finished...you may well look at life and its inevitable conclusion in a new way.
-New York Journal of Books

"Colm's journey will move and charm readers who are also searching for answers to their own questions of faith. Hackett's lovely debut is a good choice for Melody Carlson devotees."
-Library Journal