The Clockwork Girl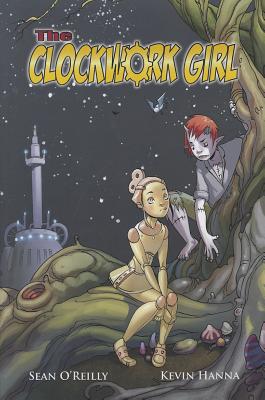 The Clockwork Girl
Harper Design, Hardcover, 9780062080394, 128pp.
Publication Date: July 12, 2011
* Individual store prices may vary.
Buy Now
or
Shop Local
Enter your zip code below to purchase from an indie close to you.
Description
Having sold more than 300,000 copies in a series of five comic books, The Clockwork Girl is now a luscious graphic novel. Its a tale unlike any other, a journey into a faraway land where the Clockwork Girl livesa ticking robot girl with mechanical limbs and a voice of her own.
Against all odds, she finds companionship in Huxley, the amazing mutant circus boy who risks his life to be with her. Together they tackle questions like what man can feel that a machine or mutant cant, what loneliness is, and what love is.
But can a robot girl feel true love? Will this futuristic Romeo and Juliet survive the threats of their warring families?
About the Author
Sean O'Reilly lives in Peoria, AZ.
Soon to be a three-dimensional major motion picture, The Clockwork Girl love story is inspired by the romantic pursuits of its lovesick authors, colleagues Sean O'Reilly and Kevin Hanna.
Sean O'Reilly is the founder and C.E.O. of Arcana Studio, an award-winning publisher of comic books and graphic novels. He is the author of a number of graphic novels, including The Gwaii, Mighty Mighty Monsters, Pixies, Kade, and The Hope Virus, as well as the producer and writer of two films for Lions Gate Entertainment.
Kevin Hanna is the founder of Frogchildren Studios, a multimedia entertainment company. He has worked as an art director for Disney, Microsoft, Sony, and Google. The Clockwork Girl is his first graphic novel.