Evolution of the Word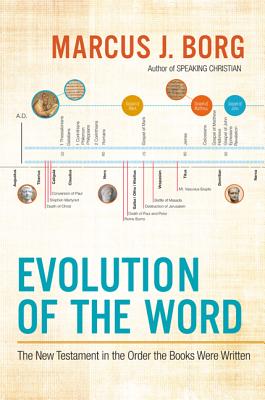 Evolution of the Word
The New Testament in the Order the Books Were Written
HarperOne, Hardcover, 9780062082107, 593pp.
Publication Date: August 2012
* Individual store prices may vary.
Not Currently Available for Direct Purchase
or
Shop Local
Enter your zip code below to purchase from an indie close to you.
Description
Everyone knows the New Testament begins with the Gospel of Matthew, but how many know Matthew was actually one of the later books to be written? (It wasn't even the first Gospel!) But Evolution of the Word is not your typical New Testament.
Marcus J. Borg, esteemed Bible scholar and bestselling author, shakes up the order of the New Testament as we know it by putting the books in a completely new order—the order in which they were written. By doing so, Evolution of the Word allows us to read these documents in their historical context. For the first time, see how the core ideas of Christianity took shape and developed over time.
Borg surveys what we know of the Jewish community of Jesus followers who passed on their stories orally. Into this context emerges the apostle Paul, whose seven authentic letters become the first collected writings that would later become the New Testament. Borg offers helpful introductions for each book so that as we read through these biblical documents, spanning over a century in time, we see afresh what concerns and pressures shaped this movement as it evolved into a new religion.
In this groundbreaking format, Borg reveals how a radical and primitive apocalyptic Jewish faith slowly became more comfortable with the world, less Jewish, and more pre- occupied with maintaining power and control. Evolution of the Word promises to change forever how we think about this historic work.
About the Author
Marcus J. Borg is canon theologian at Trinity Episcopal Cathedral in Portland, Oregon, and Hundere Distinguished Professor of Religion and Culture, emeritus, at Oregon State University. A Fellow of the Jesus Seminar, he has been national chair of the Historical Jesus section of the Society of Biblical Literature and is the author of the bestselling books "Meeting Jesus Again for the First Time," "The Heart of Christianity," "Reading the Bible Again for the First Time," "The God We Never Knew," "Jesus," and "Speaking Christian."
Praise For Evolution of the Word…
"The most helpful thing that Borg has to offer is a contextual introduction to each of the 27 books of the New Testament . . . An eminently readable and eye-opening addition to religion shelves, as well as a new and fascinating way to read the New Testament."
-Booklist (starred review)

"Borg, a prolific biblical scholar, guides the reader into understanding . . . the process by which the biblical material developed. . . . A good guide to the background and content of the New Testament."
-Library Journal

"Marcus Borg has always been a great teacher. In his newest book Evolution of the Word, his teaching skills are obvious as he opens the New Testament, not only to its original, historical order, but also to insightful, refreshing and dramatic insights."
-John Shelby Spong, author of Re-Claiming the Bible for a Non-Religious World

"Borg introduces each book of the New Testament and, for the first time in most churches, readers will be receiving these sacred texts in the order men and women received them nearly 2,000 years ago. . . Evolution of the Word will light up book discussion groups."
-Read the Spirit

"Some may still remember confrontational front-page headlines decades ago pitting Borg and other university-based Bible scholars against Christian traditionalists. However, Borg now is embraced in mainline congregations coast to coast. . . . To put it simply: Marcus Borg has become a friend to growing congregations."
-Read the Spirit

In Evolution of the Word, Borg has produced something of great usefulness. Reading the New Testament in the order suggested gives us a new perspective on biblical faith. …[It] tests and challenges our programmed ways of reading Scripture…. that can enrich our faith awareness.
-The United Methodist Reporter