The Seventeen Solutions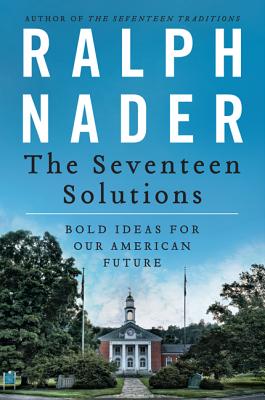 The Seventeen Solutions
Bold Ideas for Our American Future
Harper Paperbacks, Paperback, 9780062083531, 384pp.
Publication Date: October 2, 2012
* Individual store prices may vary.
Buy at Local Store
Enter your zip code below to purchase from an indie close to you.
or
Buy Here
Description
More than ever, America needs fresh ideasand bold solutions. Now, Ralph Naderperhaps our last great civic idealistoffers seventeen ideas to rescue our country from corruption, complacency, and corporate domination.
America is in crisis. After enduring two decade-long wars and a devastating financial meltdown, We the People have been abandoned by the leaders we elected to serve our interests. Now, in response to our desperate times, pioneering reformer Ralph Nader offers a new program of seventeen ambitious but common-sense solutions to our chronic economic and social problems. Among them:
Reforming the tax system Making our communities more self-reliant Reclaiming science and technology for the people Protecting the family Getting corporations off welfare Creating national charters for corporations Reducing our bloated military budget Organizing congressional watchdog groups Enlisting the enlightened super-rich
Nader offers a stark assessment of our shared straits, but his solutions constitute an eye-opening plan to save Americabefore it's too late.
Praise For The Seventeen Solutions…
It will be very good for the country if Nader's revelations shock a new generation. This book is a subversive primer that should be read in every high school civics class.
-William Greider, The Nation