Strike Zone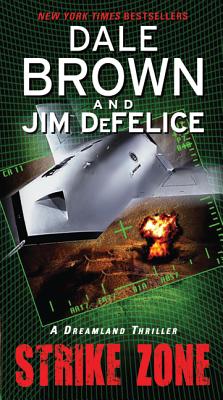 Strike Zone
HarperTorch, Mass Market Paperbound, 9780062087843, 468pp.
Publication Date: January 2012
* Individual store prices may vary.
Shop Local
Enter your zip code below to find indies closest to you.
Description
Only tomorrow's technology will keep America strong today.
In the Nevada desert, the high-tech future of warfare is being conceived and constructed at a top-secret military facility called Dreamland. This is where miracles are born.
An Asian war that would have escalated into a nuclear nightmare has been halted, thanks to the raw courage, unparalleled skill, and total commitment of the Dreamland force. But an analysis of radar data has revealed the presence of an unknown super-weapon in the area: a robot warplane with terrifying capabilities, dubbed the "ghost clone." Though strikingly similar to Dreamland's own U/MF Flighthawk, no one knows where this fearsome instrument of destruction originated, but a rogue nation possessing a squadron of them could wreak unimaginable havoc on an unsuspecting free world. Now nothing less than a brazen, brilliantly conceived deception will lure the ghost clone out of hiding--and only a daring strike on enemy soil can avert a tomorrow too terrible to consider ... if it isn't already too late.
About the Author
Dale Brown is a former captain in the U.S. Air Force. He lives in Nevada, where he can often be found high in the sky, piloting his own plane. He is the author of ten previous novels, all of them "New York Times" bestsellers.
"From the Paperback edition."
Jim DeFelice is the author of many military-based thriller novels and is a frequent collaborator with Stephen Coonts, Larry Bond, and Richard Marcinko, among other New York Times bestselling authors. His solo novels include Leopards Kill, Threat Level Black, Coyote Bird, War Breaker, Brother s Keeper, and The Helios Conspiracy. He lives in New York.