Satan's Tail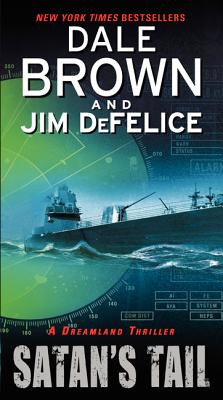 Satan's Tail
Harper, Mass Market Paperbound, 9780062087850, 528pp.
Publication Date: January 31, 2012
* Individual store prices may vary.
Not Currently Available for Direct Purchase
or
Shop Local
Enter your zip code below to purchase from an indie close to you.
Description
To fight the war on terror, America's warriors need new weapons. And here is where the future will be won.
In the Nevada desert, the high-tech future of warfare is being conceived and constructed at a top-secret military facility called Dreamland.
As extremist Islamic pirates, armed and supported by a powerful Saudi terrorist, prey on civilian vessels in the Gulf of Aden, America aggressively answers with serious muscle a next-generation littoral warship with a full range of automated weapons systems that the enemy has dubbed "Satan's Tail." However, unforeseen technological problems, combined with the suicidal tendencies of a fanatical foe, mean support is needed from above and a pair of Dreamland's awesome Megafortresses and their Flighthawk escorts are dispatched to the war zone. But bitter professional rivalries threaten to damage, perhaps even destroy, the mission, as a vengeful opponent takes advantage of the disruption to strengthen his outlaw navy and set its sights horrifically high raising the stakes in a battle the U.S. and the world simply cannot afford to lose.
About the Author
Dale Brown is a former captain in the U.S. Air Force. He lives in Nevada, where he can often be found high in the sky, piloting his own plane. He is the author of ten previous novels, all of them "New York Times" bestsellers.
"From the Paperback edition."
Jim DeFelice is the author of Omar Bradley: General at War, the first in-depth critical biography of America's last five-star general. He also writes a number of acclaimed military thrillers, including the Rogue Warrior series with Richard Marcinko, founder of SEAL Team 6, and the novels in the Dreamland series with Dale Brown.