End Game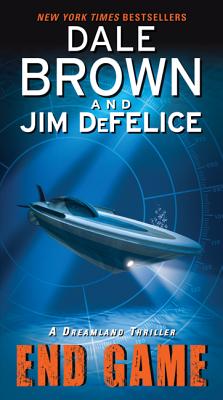 End Game
Harper, Mass Market Paperbound, 9780062087867, 544pp.
Publication Date: January 31, 2012
* Individual store prices may vary.
Buy at Local Store
Enter your zip code below to purchase from an indie close to you.
or
Not Currently Available for Direct Purchase
Description
To combat terror, sometimes fire must be fought with fire.
In the Nevada desert, the high-tech future of warfare is being conceived and constructed at a top-secret military facility called Dreamland.
A volatile U.S. ally has fallen prey to the terrorist beast. India is the target of radical Islamic jihadists, and the world watches breathlessly as tensions escalate between the uneasy giant and its longtime nemesis, Pakistan with China waiting in the wings, eager to flex its military might. A nuclear showdown seems inevitable, unless the masterminds at Dreamland can get to the mysterious source of the terror and end it, swiftly and permanently. Every technological wonder the military possesses must be employed to avert an all-out Apocalypse from an awesome new hybrid Navy destroyer to robot Nighthawks. But the fate of the region and the world will depend on the newest brainchild of the Dreamland team: an unproven instrument of ultimate power called End Game.
About the Author
Dale Brown is a former captain in the U.S. Air Force. He lives in Nevada, where he can often be found high in the sky, piloting his own plane. He is the author of ten previous novels, all of them "New York Times" bestsellers.
"From the Paperback edition."
Jim DeFelice is the co-author of Chris Kyle s #1 New York Times bestseller American Sniper. He also is the author of Omar Bradley: General at War, the first in-depth critical biography of America s last five-star general, and the co-author of the New York Times bestseller Code Name: Johnny Walker: The Extraordinary Story of the Iraqi Who Risked Everything to Fight with the U.S. Navy SEALs. He writes acclaimed military thrillers, including the Rogue Warrior series from Richard Marcinko, founder of SEAL Team 6, and the novels in the Dreamland series with Dale Brown.